Brian suggested I post some info on the hauler trucks I am so infatuated with, so I am starting a car hauler thread. Anyone who has pics or info about any of the popular ramp trucks or enclosed haulers of the past, before the current 50k enclosed trailer towed by a 150k motorhome era, post them up in here too!! Leave trailers for some other thread, this is about self containment!!
Since my head is full of useless information on the Oleynik trucks, here is what I remember. With pics!!
Lou Oleynik was a pro stock racer in the early 70s. He owned a truck body company
in the same neighborhood as the big 3 truck plants in Detroit, and it is still there and operating today.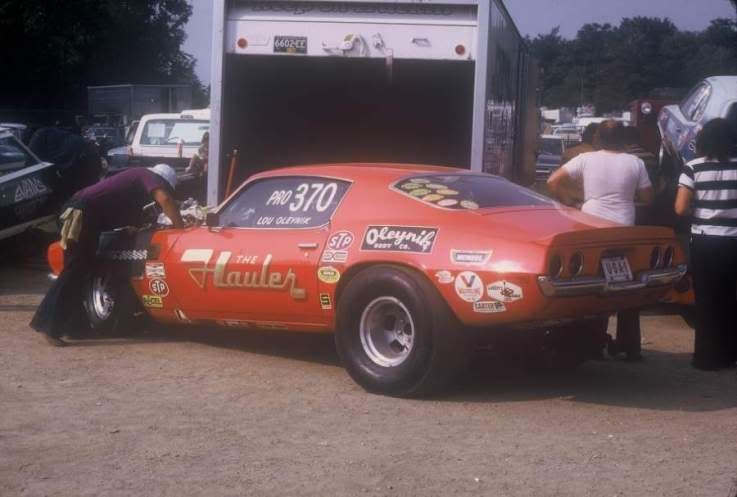 I have no idea how many of these or when the last truck of this type was built, probably middle to late 80s. His creations pre dated todays Enclosed/5th wheel/toter haulers, and Lou took the basic ramp truck, so heavily used in mid 60s to early 70s and elevated it several levels with simple but effective mods in his freight body business.
The trucks were built on your basic cab and chassis offerings from the big 3. As far as I know, they came in 2 versions, what I will call the "small" trucks and the "big" trucks.
Small trucks were based on one ton chassis, regular and crew cabs, and big trucks were 3 ton medium duty trucks, like a C65 Chevy or F700 Ford or D600 Dodge. The small trucks of the period were popular due to the availability of tilt columns, power windows and cruise control, which the bigger trucks did not offer. However, the bigger trucks had enough chassis and brakes for any size and weight car, and a lot of extras such as spare engines and tools and equipment. The smaller trucks generally required spring upgrades for anything heavier than a small block camaro or maverick, while the big trucks were ready to go, and were actually cheaper as a c/c due to the lack of options and fleet pricing. Also, no one in the dot was paying much attention to these things in that era, and an 11000 lb door sticker, on a small truck with a car inside weighing 14,000 lbs total (or more) was never inspected or penalized for being overweight. It is not difficult to configure these into motorhomes, per the legal definition, and get them registered as such, sidestepping scales and dot.
To begin, You went down to your favorite dealer and optioned out your c/c and had it delivered to Lou and then his crew built it into a car hauler, per your specs from his available options. Being a racer and the designer of his products, he had a good idea what racers needed and wanted.
The hauler body was based on a Brown manufactured van body, your basic freight hauling body, with a Todco roll up rear door. The difference is, the car haulers were built from a body with an outside height of 6'6", making the inside ceiling height approx 6'3". The average freight trucks had 7 & 8 foot tall bodies, so the lower skirting and shorter body gives the car haulers the visual impression of being "channeled" or sat lower on the frame rails, when in fact they were just lower height bodies.
Hauler bodies were built in 20-28 foot lengths, in two foot increments. Small trucks could be configured with 20-22 footers, and if you wanted more length, you had to move up to a bigger chassis. The Brown bodies had strip oak floors, made from one inch strips of oak, laminated into planks, a practice still used for truck body floors today. As delivered they were/are unfinished, and after the modifications, Lou would clearcoat them. Making them look like a high end hardwood floor, which in fact they were, they just were not made from choice cuts of wood. The rear of the floor was "beavertailed" behind the axle location of the chassis it was to go on, and at the same point, the "risers" started forward and upwards, creating a ramp effect that elevated the front wheels of the car approx. 14 inches.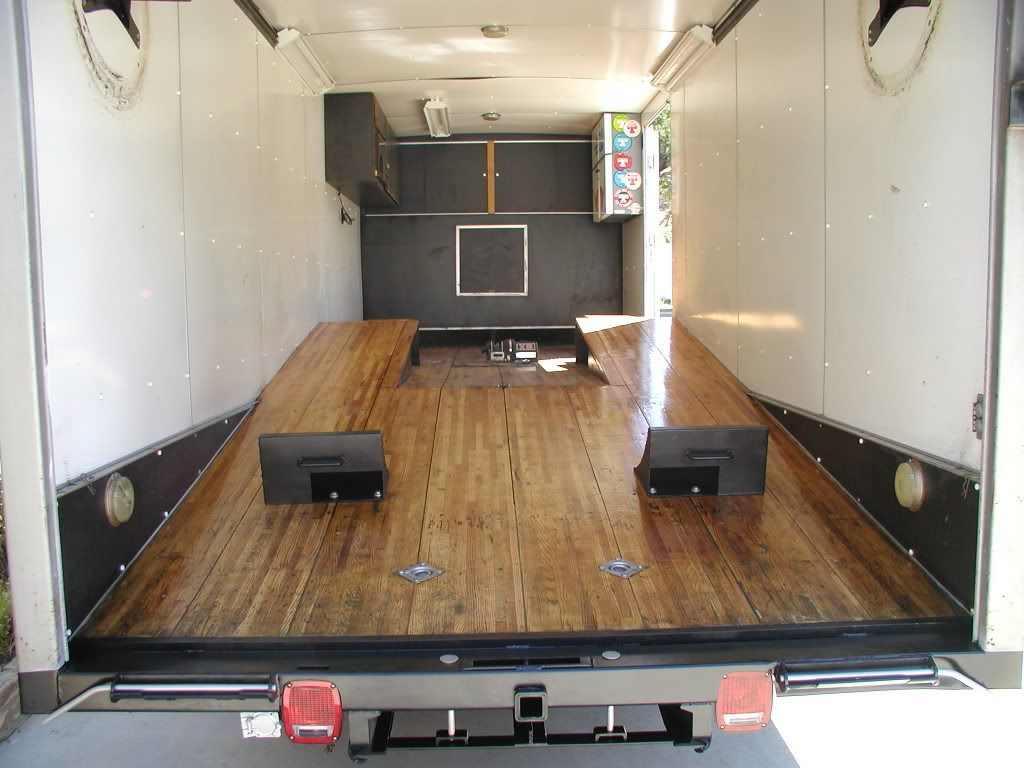 The risers are approx 28 inches wide each side , and the inside of the truck is about 7? 9?making a space between the risers about 40 inches, flat. This gave space under the front of the car to tie it down as well as some space for visual inspection and limited maintenance. The strip oak floor on the risers was supported by a sheet metal floor section approx 3/16 inch thick, and this also formed the area above the trucks rear wheels. The engineering of this arrangement positioned the basic front engine rear drive
"door cars" heaviest part, the front end and engine, over and just slightly ahead of the trucks rear axle, making the cars weight ideally placed.
The hauler body had a 36" side door on the right side at the forward edge of the right side riser. On the small trucks, this opens to a 3 foot wide space of flooring to the back of the sleeper compartment. Every one of these I have seen has a nicely upholstered sleeper bunk in the first 3 feet of the body, with an upholstered pass through into the cab where the rear window would go, although it is possible some were built without it. EDIT 7-16-09- I AM CORRECTED in that the trucks were generally built without the sleeper but with the hole in the body matching the rear window of the truck-it was up to the end user to install the sleeper however they wanted, lou didn't generally finsih that part.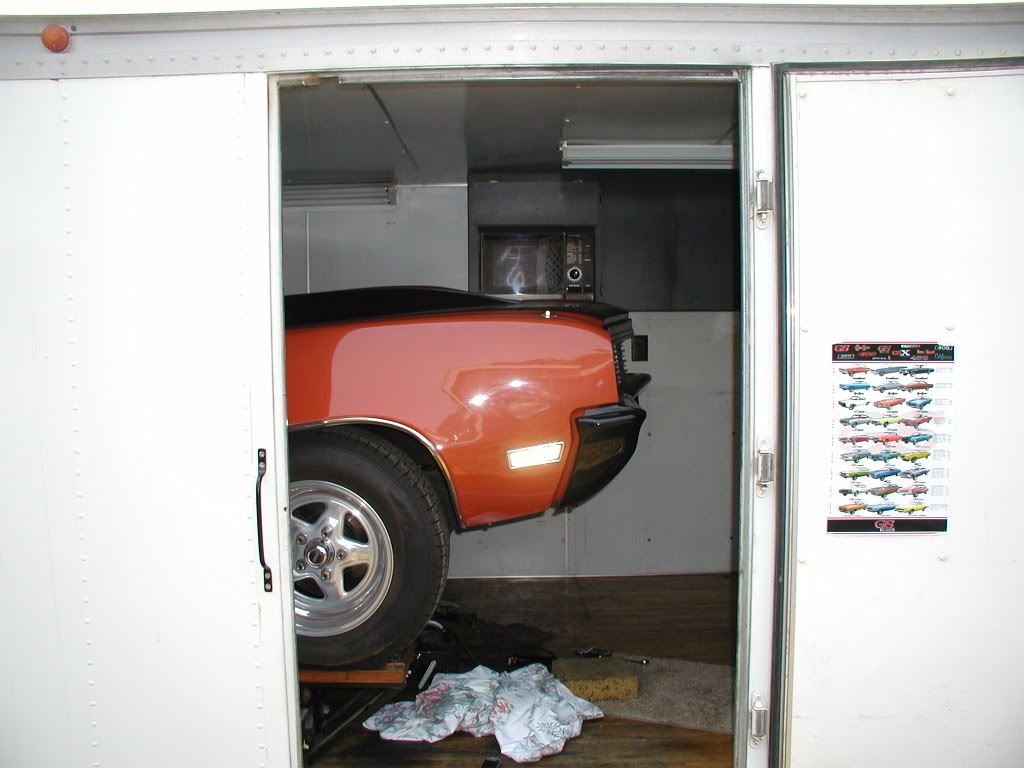 the sleeper on my last one had been soaked from a leaky window and the window was removed and the upholstery torn out and it was painted white inside. It was nice at that, although my latest one is still upholstered and more "cushy"
my next truck sleeper compt.
The interiors of all the trucks I have seen were finished with the woodgrain paneling of the era, including my newest acquisition although the C6000 I had last year had been nicely updated with a white plastic siding inside, and I have seen this in some others as well.
The risers on a small truck, 20 to 22 ft bodies, were approx 14' long, with the 3 foot open space then a 3 foot sleeper on the 20, with longer risers or more floor space built in as the customer preferred as the body got longer. Factory fuel tank locations, with the periods saddle tanks generally hung on the frame rails, were maintained and the fillers incorporated into the lower skirting on the small trucks, and the usual saddle tanks under the cab doors on the big trucks. underbody toolboxes were offered in place of the forward skirting, as seen on both of my trucks shown here as well as the Grumpy Jenkins truck shown below. These work great for thier obvious benefit of tools and equipment but also hold generators nicely.
The first Oleynik enclosed truck I saw up close belonged to Bill Davis, Div 3, Ohio, who had a very trick and very fast SS/FA 71 454 Chevelle at the time. He is todays SS/D record holder, with a Camaro he built after the Chevelle was stolen. Check your national dragster. This trucks floor was flat ahead of the beavertail, no risers, so he could squeeze that Chevelle into a 20 foot truck. That Chevelles front bumper nearly touched the rear sleeper wall, and the door barely closed in back. I have no idea how he tied it down in front. It was based on a C30 Super Cheyenne, prior to the Silverado moniker.
My involvement with these started when a good friend in western Pa. ordered a 76 C30 Silverado with every possible power option, tilt and cruise and had a 20 foot body with sleeper built onto it. I had the honor of driving this thing on its? maiden long haul, to Gainseville in the spring of 77, and that started my lifelong love of these things. After years of open trailers, this was high class travel for us! He still has that truck, and it has been stored indoors all but 2 years of its life, and he recently updated it with a 91 cab/injected 454 and some HD3500 parts. He bought a 22 foot truck in the early 80s to fit his SS/GT car and still has it as well, both stored indoors.
By the early 80s there were a lot of these out there, but the enclosed trailer thing was starting to become the new deal, as guys could use their daily driver pickup and tracks started letting sportsman racers leave the trailer at the track while they went to dinner or a motel. Today many folks motor home it and stay at the track all weekend, and that is exactly what I was doing with my last one, last summer. I could take a cooler full of food, sleep in the truck and with some lawn chairs and easy up, it was a nice deal for me. Doesn?t work for a family like a motorhome, but my family isn't interested in coming along., so its all good.
As most of the drag racing fans who are computer savvy know, there are lots of photo albums out there of "old" racing cars and events. When I look through the pit scenes photo'd I see a lot of these trucks-every Chrysler team out there had them, the Rod Shop had a fleet of them, lots of 2 car teams were towing one inside and one on an open trailer.
I have seen a Chrysler racer, I believe Steve Wann of central California, still doing that today with his stocker and super stocker with a D600 Dodge/Oleynik setup. A year and half ago, the 74 C65 Bill "Grumpy" Jenkins had built was on ebay with all the original docs from when he had it built. The seller was looking for 25k, it struggled to 17 and stopped, which is ALL the money for one of these. The seller had completely refurbished it, new engine/suspension/brakes/aluminum wheels, etc etc-it was nice, but it had to have half a million miles on it. It later turned up on European Ebay but I do not know if it sold, last time I looked it was at 12k on that auction. It was a 28 footer, here are some pics I copied off the auction.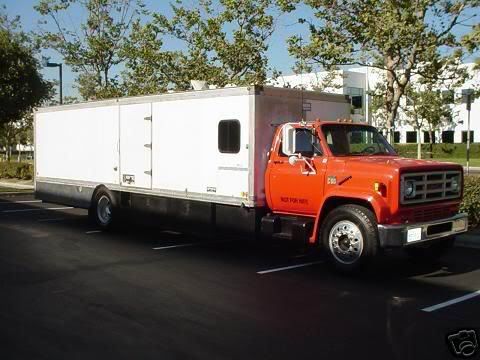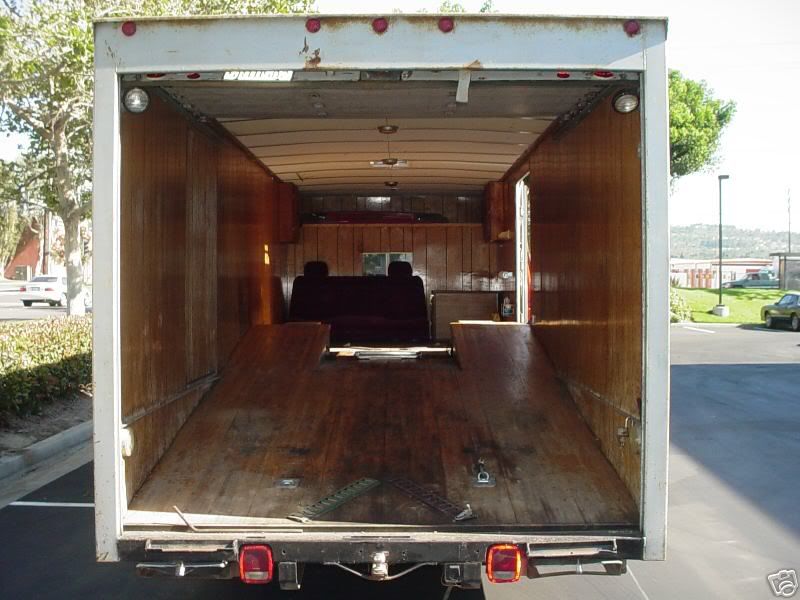 As you can see on these orders from the Jenkins truck, this 28 foot body with sleeper was about 3k. the cab/chassis was likely about 12, in 1974 dollars. far far less than what people are spending today for theose flashy rigs out there!!
Last summer I saw a black 76 Dodge D600 in Rod Shop livery on ebay and it looked horrible-sitting in a field behind a building somewhere in the Midwest, RUST RUST RUST on and in the cab (hauler bodies are aluminum skinned and framed and wood floored, although the bracing for the beavertail and mounting are steel) small block as this thing was from the era where a 360 was the biggest choice, stick shift, and it hit the $6500 BIN within 48 hours!! I have to assume it was the Rod Shop history that sold it, cause the c/c were junk from what I could see, I didn't figure it would do more than 4k. It was far worse than the 79 chevy I posted in check this out recently.
couple of photos of my last one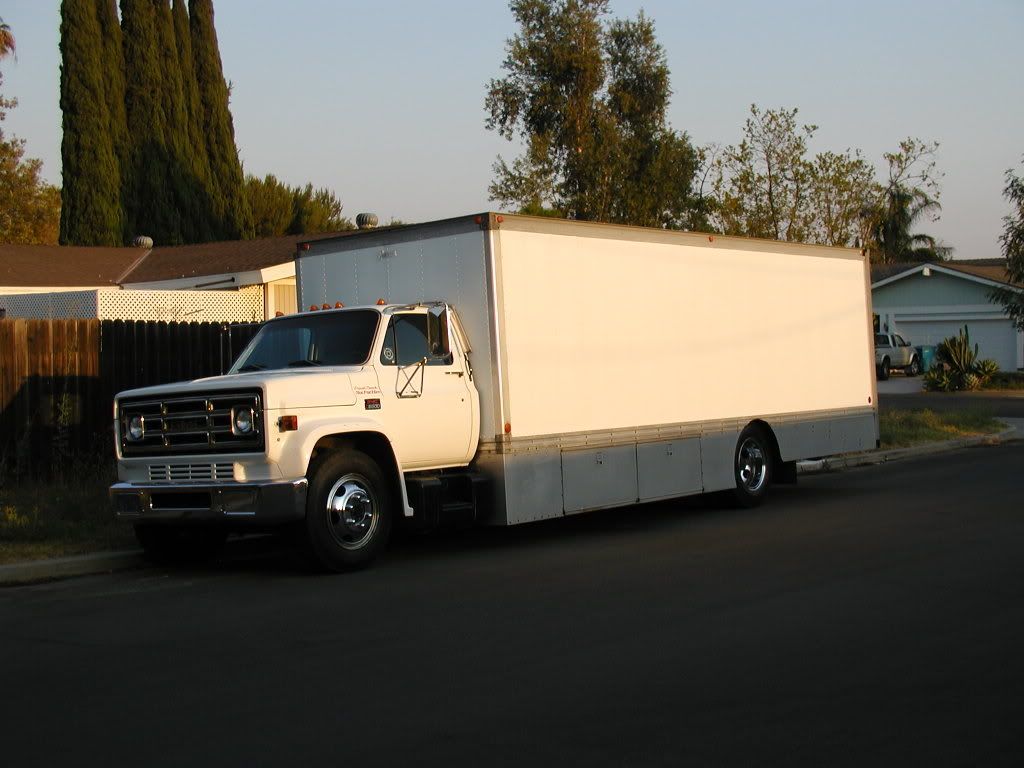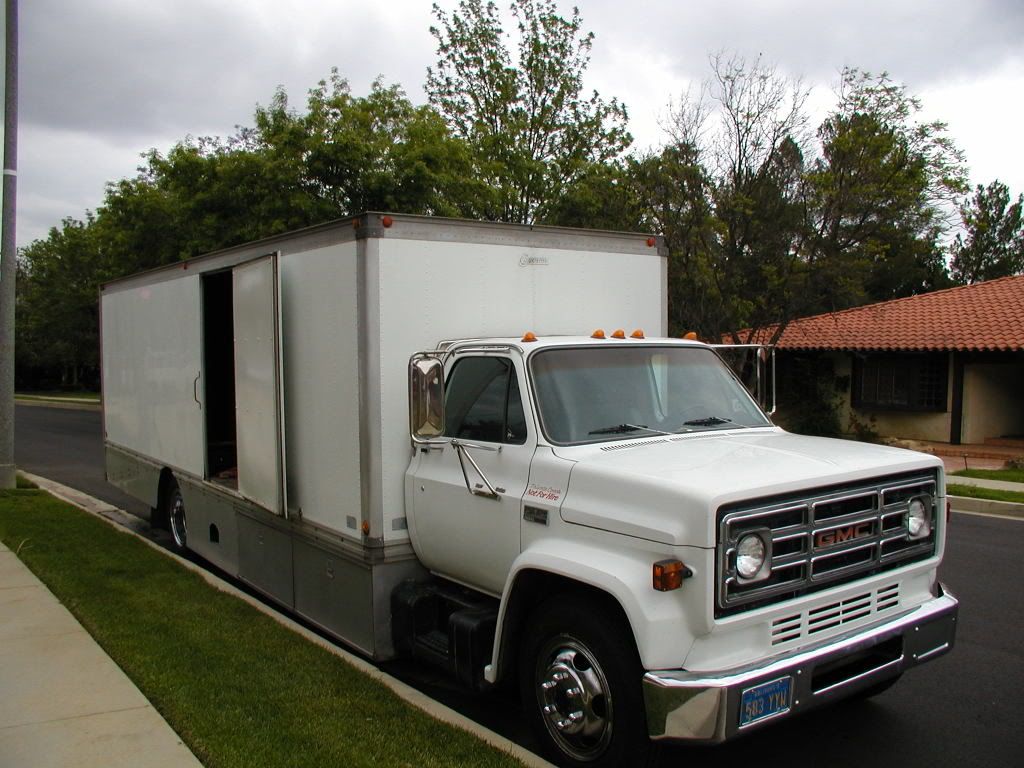 and my next one
inside sleeper