This is an adventure story I posted a couple of weeks ago on the HAMB. I thought I would post it on here as well. My decision was whether to edit it to suit this site or post it as is, knowing that a lot of you might not know or recognize the "players" involved. I decided not to edit the story as this post is as much about the people in our hot rod hobby as it is about the museum and cars.
We all have car pals that we only get a chance to see a couple of times a year and thanks to the internet are able to stay in contact with, which allows us to feel as closer to them, or almost as close, as local car pals.
Some background is needed for this adventure cuz it's just a little to out of the ordinary. I don't run in circles with folks who just hop on a plane for a 24 hour jaunt.
This past Wed morning I had an email waiting for me when I got to work from Hellraiser, a good HAMB pal from Omaha, asking me if I didn't have any plans this weekend that he would like me to attend Malcolm's Monster bash Halloween party in Omaha on Saturday night. If I was willing to he'd pay for my airfare and my own hotel room and pick me up and hall me around.
I must have read that email 50 times before I called him. I also checked NWA flight info, including price. It was alittle outrageous in cost if you ask me but that's last minute for ya. So anyway I called him, and after I told him he was CRAZY, I agreed to come. All this is going to be a surprise to not only Malcolm but the rest of the Omaha crew as well.
Flight was booked, hotel reservations made and talk of a costume is in the works. Hellraiser mentions wouldn't it be cool if you were the cookie monster. GREAT idea, full face mask and I could pass out cookies at the party. He checked around Omaha for a costume, no luck. I checked around Detroit, no luck. Ok, I can sew and I'm alittle on the creative side, I can make my own. Thursday after work I'm head to the fabric store. As lucky would have it, blue fur was the second bolt of fabric as soon as I walked into the store. Fabric, elastic and Velcro, brought.
Friday after work I drag out the sewing machine and get to work. Cut and sewed the bottom portion without any hassle. Got about ½ the top part made when the machine broke. DAMN, something wrong with the bobbin thingy. I spend about an hour trying to fix it but I couldn't and just ran outta time. Had to pack…..and come up with another costume that wouldn't show my face.
This is what would have been the perfect costume. Oh well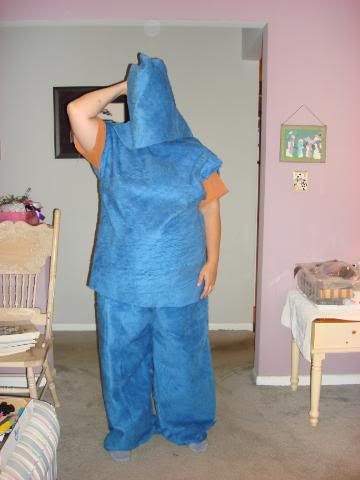 Went down to the basement to get my suitcase…..again…. and spotted my biker garb from days gone by. With the helmet on and a bandana across my face, black glasses inside of my red ones, no one would recognize me….right?
Called Dallas AKA Hellraiser to tell him of the change in costume AND he informed me of the plans for the next afternoon. He had called and arranged a personally guided tour of the Speedway Museum by none other then Speedy Bill HIMSELF! Oh my God, I couldn't believe it. This was just the icing on the cake. The place is not normally opened on the weekends as we found that out in Aug when we wanted to stop on our way to B'ville for Speed Week. Dallas knows how much I appreciate him arranging this but I just have to say it again. Thanks SO MUCH sweetie for going above and beyond. You're the best!
Saturday my sister picks me up for a quick ride to the airport. Good thing it's only 15 minutes away and my family is cool about driving me there. Saves on outrageous parking costs. Flight was short and uneventful. I edited photos on my laptop the whole two hours.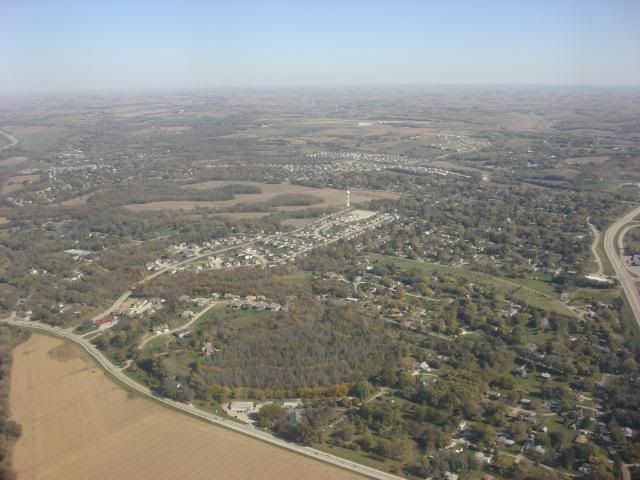 The Omaha airport is small compared to Detroit and within 10 minutes of landing I was standing on the curb. Hopped in Dallas's truck for the drive to Lincoln chatting the whole time on how cool this was and what a surprise we were pulling on all the Omaha guys.
Speedy Bill and John were waiting for us in the lobby. John is his right hand man and tape records and takes notes of everything Bill says just in case there is a tib-bit of information that hadn't been spoken before. Introductions were made and the tour started. Bills wearing his imfamous black hat., John's on the other side of me.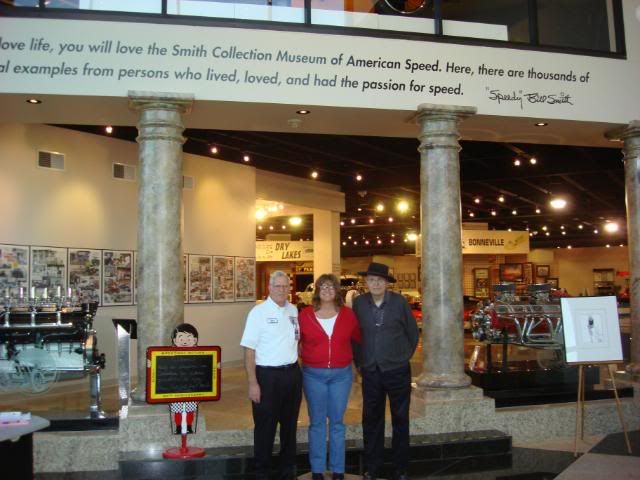 Now I'm not going to proclaim to know anything about engines, nor can I take notes as fast as Speedy Bill talks and if I would have recorded the 3 ½ hour tour it would be Christmas before the words were transcribed, so I took what notes I could, listened hard and concentrated on what he was saying and took some photos of the placards with info. I relay as much info about each shot as I can BUT I was more interested in actually listening to Bill and HEARING the stories that went behind the different displays.
We were there for 3 ½ hours and in my opinion a person would need 3 ½ WEEKS to see and read EVERYTHING inside that place.
The entrance way is very impressive. After signing the guest book and walking up the couple of marble steps Bill went right over to the engine on the left which is a one of the very first V16 Caddy engine built to be used in a production automobile. This exact one was used for racing in the dry lake beds of CA.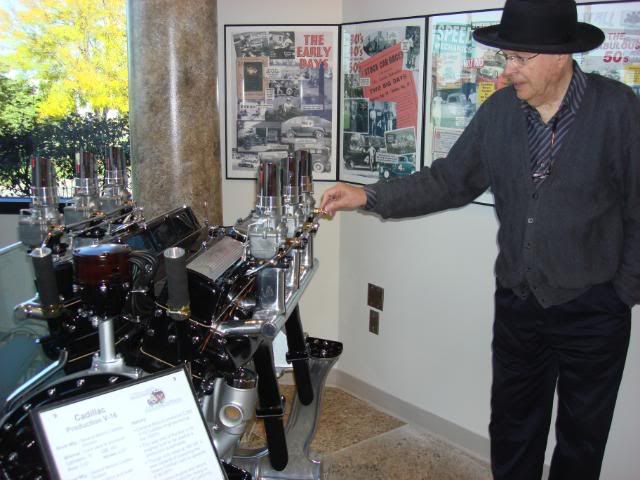 And on the opposite side of the stairs is this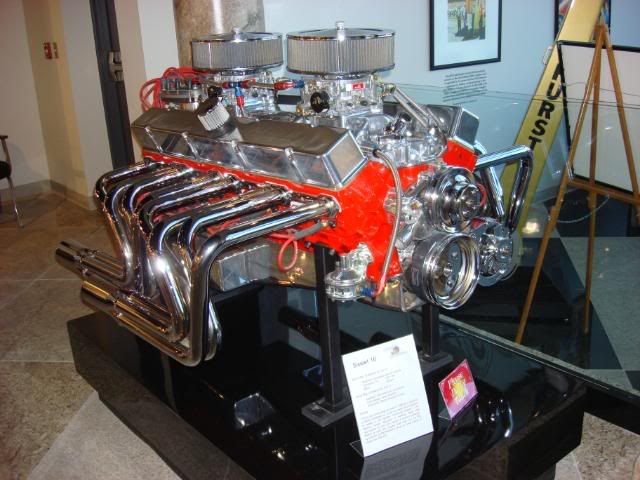 We stayed to the left as we walked thru this area.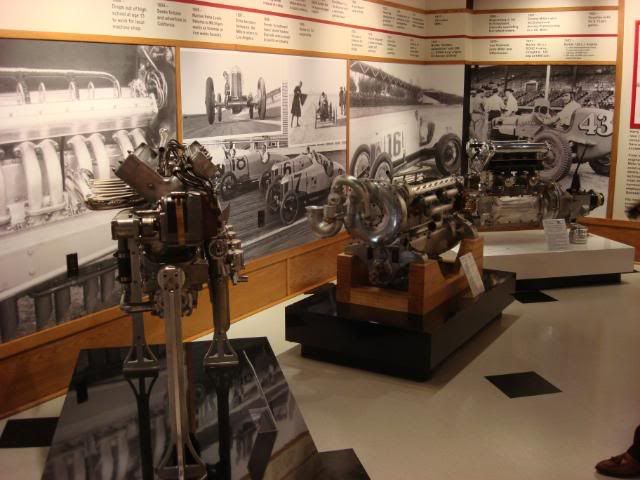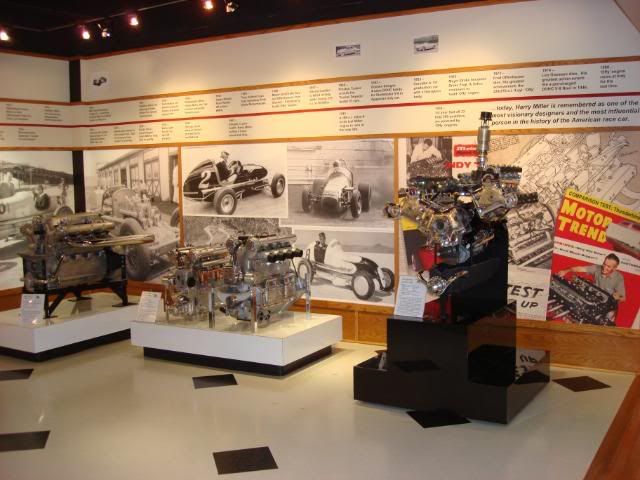 Harry Miller and Leo Goossen built new 308ci DOHC V8 for the 1932 Indy 500. One of only two ever built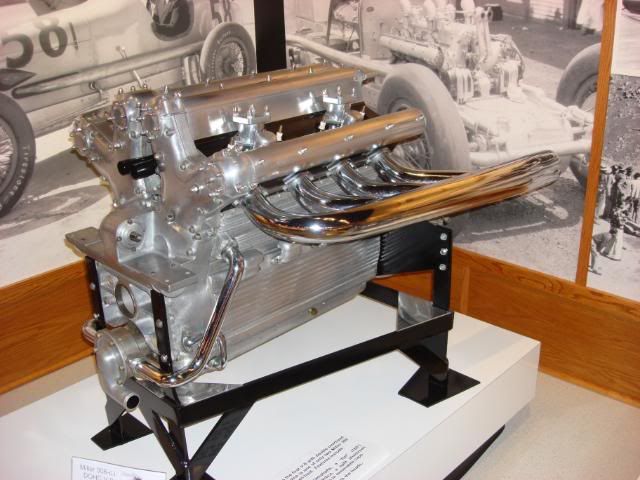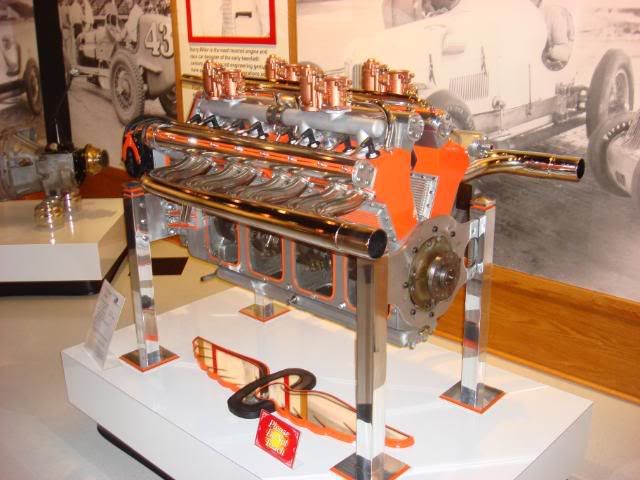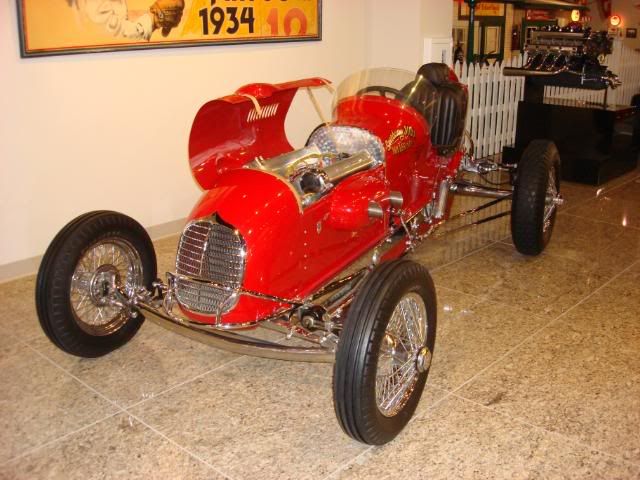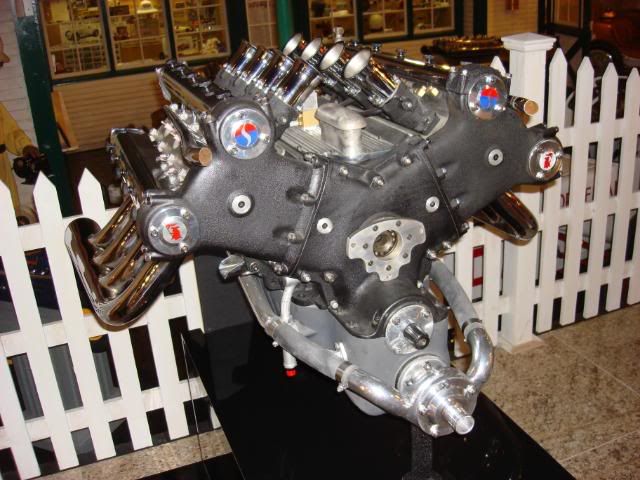 Still veering to our left is this Indy display thru the years. The façade on the front of the buildings deplict the changes over the years. There are a few steps down into this section.