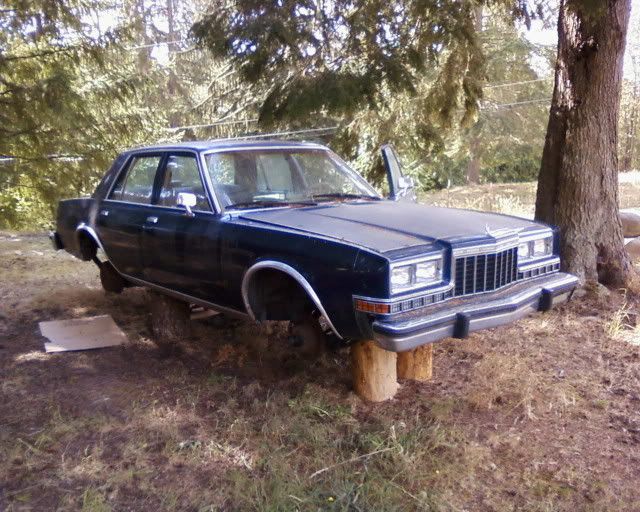 Today I did what I have to consider the hardest thing that I have ever done that involved a car...I had to end what Warhammer had become - an out-of-control project that I could not feasibly dig myself out of, ever. I tried. I meant well, but "the road to Hell is paved with good intentions" and let me tell you, I can lay a f'ng road of 'em
The Diplomat had become an out of control quagmire of a project. I was lost as to what I was doing, I was fking up things left and right, Murphy's Law hit every goddamned time I did not need it to...and the last few months, I could not even stomach looking at what the car had become. It broke my heart, seeing it as a shell of itself. And what really fks with me is that it was
so close...
at one point it was almost finished! But of course, when there's a way, I'll find a way to screw it up royally, and I did that on numerous occasions during this. I have somewhat eased my concience knowing that this will help others with their projects, and some of the car is staying with me too. But I digress...it still blows. I finished the final strip today, dropping the rearend, pulling the pedals, and saving the 125-mph cop speedo. And the car hurt me, tried to kill me (fell off the stands shortly after the rear was out) and fought me for hours. It refused in every possible way to give up what it was.
And the whole time I felt like shit. I really did. I mean, this car meant a lot to a lot of people, not just here or in the Mopar community, or the Diplomat forum, but everywhere...Army friends who saw it show up, said it wasn't worth it only to be shut up after it rolled out of the paintbooth...friends who went for rides...the long cruises with certain people...and it did so much for me...it gave me something to focus my time and attention to...it gave me something to be proud of. I am not taking full credit for the car, that truly belongs to Thunderstruck, and as I've always said before, I only made it pretty.
I refuse to know it's final day. One of the guys off the Diplomat site is going to make one last strike for parts, then it's gone.
This has rattled me. I'm on hold for any future projects...the Monte's trans will get done, the Mirada's tailcone will happen...but after that, I don't know. I want the Chevelle gone, badly. I'm pretty sure the Ramcharger will be out the door soon too. I'm honestly fkn sick of cars now...my faith in my abilities and usefulness is pretty much shot.
Warhammer deserved better.