Duesenberg Model J: The usual representaion that most folks ever have a chance to experience is picture in a book of a chrome covered Classic, lifeless and un-real, or of a silent and still giant, slumbering behind the velvet ropes in some climate controlled museum.
This is not what these cars were buit for! Fred Duesenberg (the self taught genius engineer, farm kid from Iowa turned designer/builder/racer, builder of the first American car to win the French GranPrix, 3 time Indy 500 winner) designed the Model J not only to out-class any car in the world, but to out-perform any car in the world, and he succeded! These cars were built to drive, and to drive fast! The 420 cube, DOHC, 32 valve, straight 8 sounds awsome at wide open throttle, and this Friday, it's roar can again be heard at the Ab Jenkins Memorial Duesenberg Festival of speed! Yes, there is going to be an all Duesenberg Drag race. And you can be there, seeing the cars up close, hoods open getting tuned in for the next round, and pairing up for a blast down the strip!
The cars will gather in Auburn Indiana, and drive with a police escort to the Kendalville Airport. There will be a fly-in of vintage aircraft, and the local SCCA will set up their timing equipment for a "gentlemans" 1/4 mile drag race. All Auburn, Cord, and Duesenberg cars are invited to the airfield, but only Duesenbergs will race. Rumor is that 50 , maybe even 75 Duesey's will make the event. This unprecidented, historic event is open to the public.
I will be there with my '29 J, ready for action! If any of you BS'ers make it, be sure to look me up. Look for this car, I'll be the one driving it.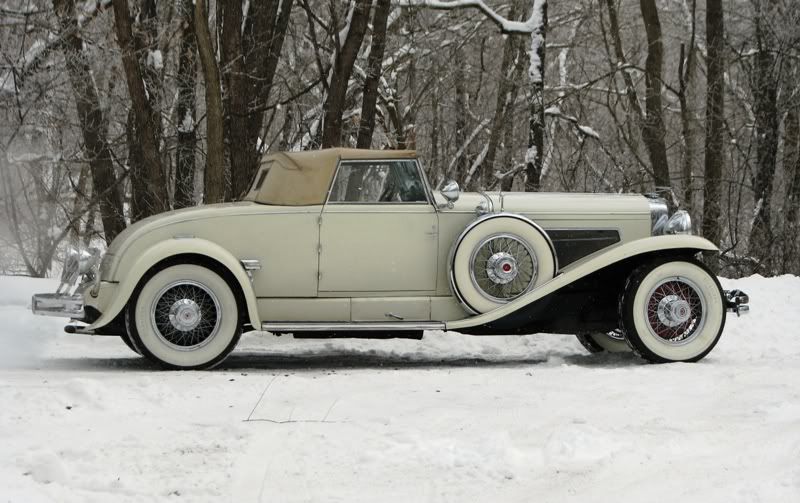 Links for more info:
http://www.acdmeet.org/
http://corporate.interstatebatteries...nion/index.asp
Hope to see you there! Joel