When I first got into the sandrail/dune buggy thing, I had no clue what I was doing. I needed an advanced welding project for my junior year in high school, and decided this was it. Ordered a kit, hauled it in and welded it up. Hauled home a rolling chassis, made it barely move under its own power, and didn't get much farther until after college. Got a job and then the real fun began. After a year I had something dune worthy, and a good friend and mentor invited me along to the dunes. (Looking back,probably for his own entertainment! Sand newbies are entertaining. :D )
Anyways, this is my rig the first year I went. Built the sandrail from the ground up, built the trailer from the ground up, and pieced the van together from a shell I found in someone's barnyard. This is about 1992, and that's my dog Babe. I brought her home as a pup back in 1984, she earned her keep too. Back then racoon pelts brought an easy $30 a piece, at least the ones she caught up with. RIP Babe.
Entrance "road" into the dunes. Love those roostertails! That's Dave, another friend of mine in front. This was his first year with paddle tires, he found them in a older gentlemans garage, stuffed up in the rafters where they had been for 20 years. Still jealous of the deal he got on them.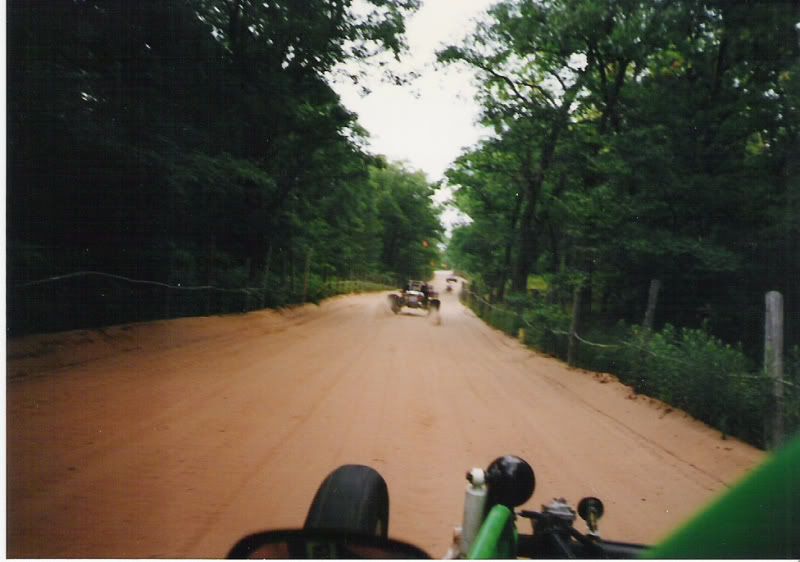 Better picture of Dave. His rail runs waaay better than it should for a 1641cc. While I have had one of his heads off and measured the bore/stroke, he refuses a complete teardown. Says something about it running too good to tear it down? Pffffttt, he's hiding something, I know it. I like how he appears to be reading something in this picture.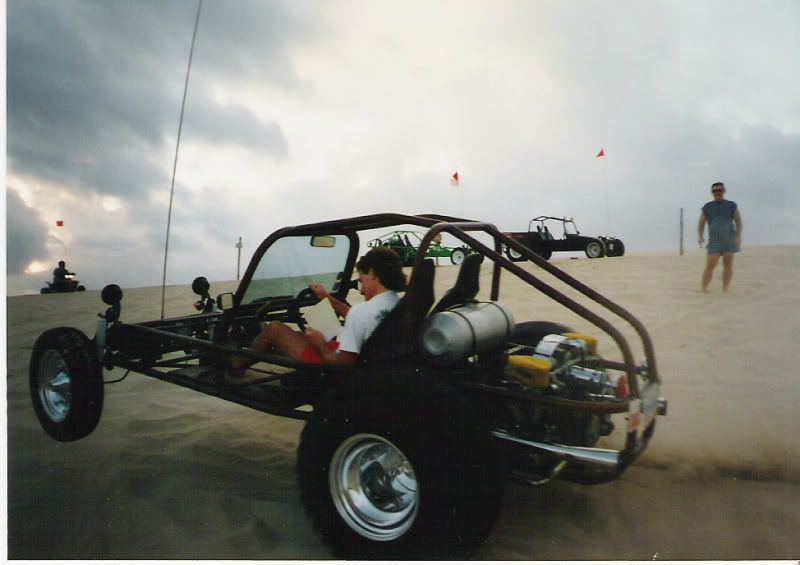 Some wheelie pictures of Dave.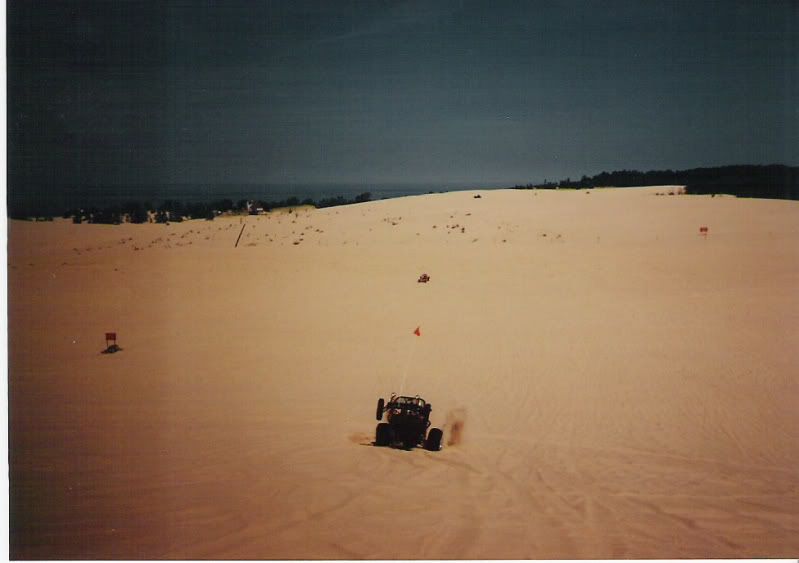 Here's Gary and his ride. That machine has tons of history in it, he turned it into a truck bed style after an unfortunate encounter with a railroad crossing late one night. Gary was a great guy, I met one day when I chased him down and caught up to him at a videotape rental place. See, I was building mine at the time, and wanted to check his out to see how he did things. He gave me his number and told me to let him know if there was anything I needed. A valued friendship grew from that chance meeting; Gary passed in the late '90s. Miss him daily.
If you look close, you'll see the broken shock bungeed up out of the way on my rail. Also note the truck-pulling tires on the rear of mine, NOT recommended. They work, but are ENTIRELY too heavy. See next picture for why.
Why truck-pulling tires are too heavy. Noticed I needed new bearings after hearing the drum rubbing against the backing plate. Gently drive back to the cabin...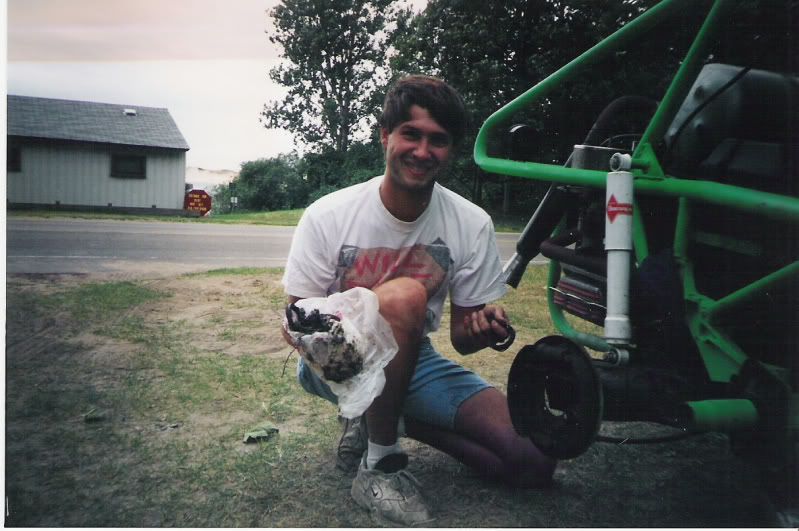 Back at it. This type of activity might have had something to do with the bearing too? Naw....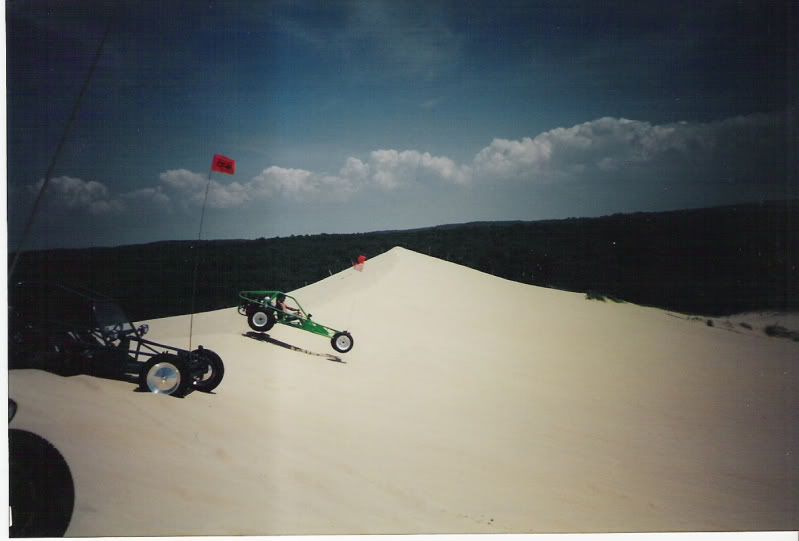 Everyone gets a good laugh at the expense of whoever let up too soon. If you don't judge it just right, you'll end up high-centered in the powdery stuff. Nothing to do but get out and start scooping it out.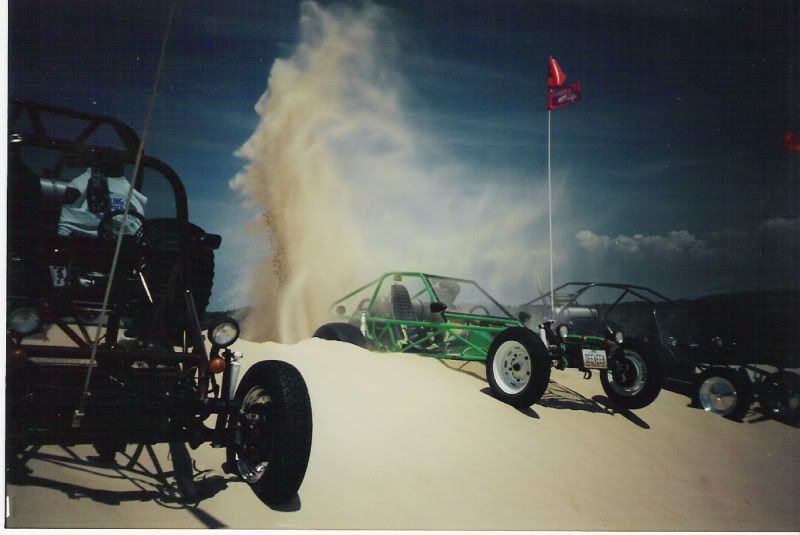 Some flat running. See the big smile, that's the way to tell a sand newbie. Lots of gritty spitting will soon follow.
There's trees out in the dunes too. There are bobcat, fox, and other critters about as well.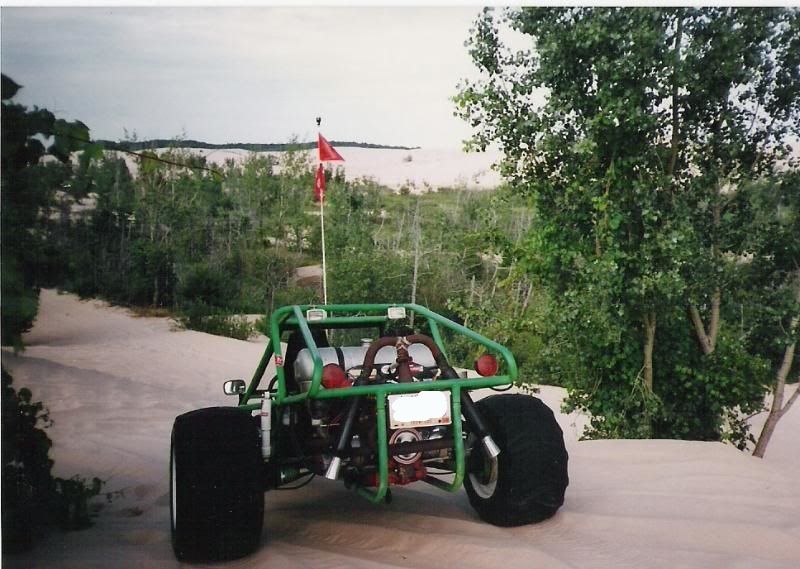 Darn sand traps!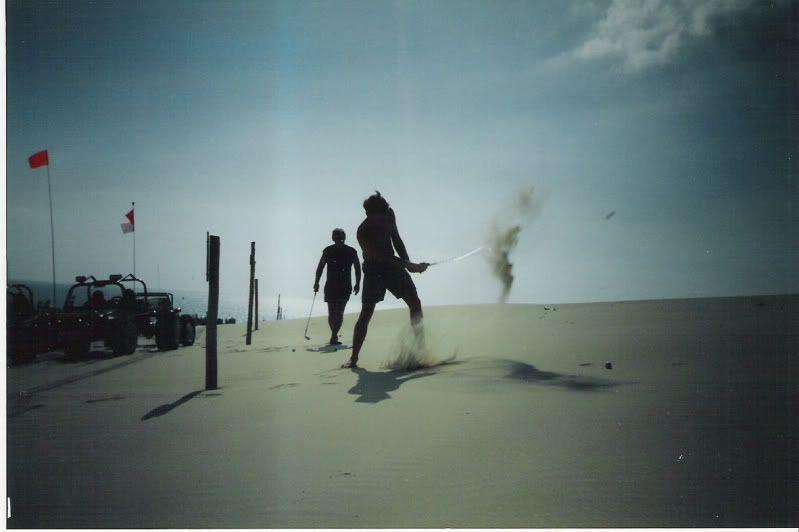 Fast forward a few years. Have gotten married by now, and got another buddy into sandrails. This is the year I brought my Dad-in-law along to see if I could get him hooked too.
Kalvin likes his campfires. And his Smores. Don't screw with him, he's a baaaad MOFO where the Smores are concerned.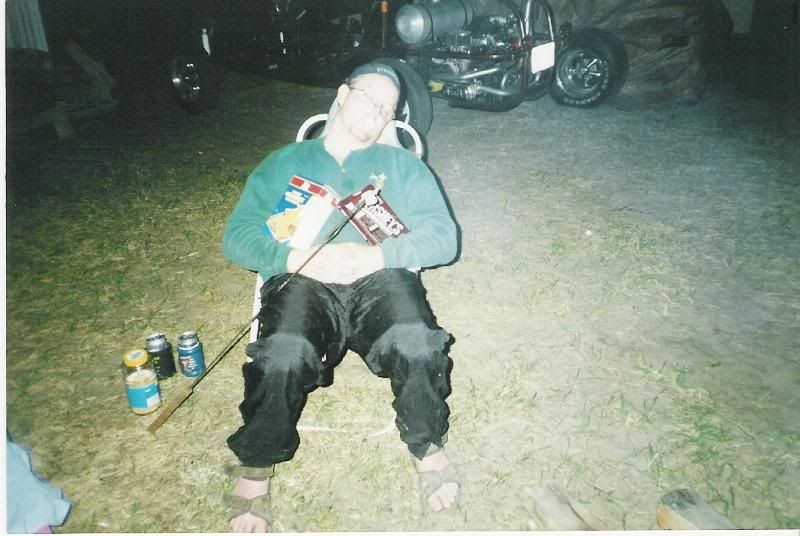 Kalvin ran like this for a couple of years, then cut it apart to make a 4-seater. Growing family and all, it was the right thing to do. Oh, and my Dad-in-law seized his engine for him. Kalvin was happy, gave him a reason to enlarge it while rebuilding.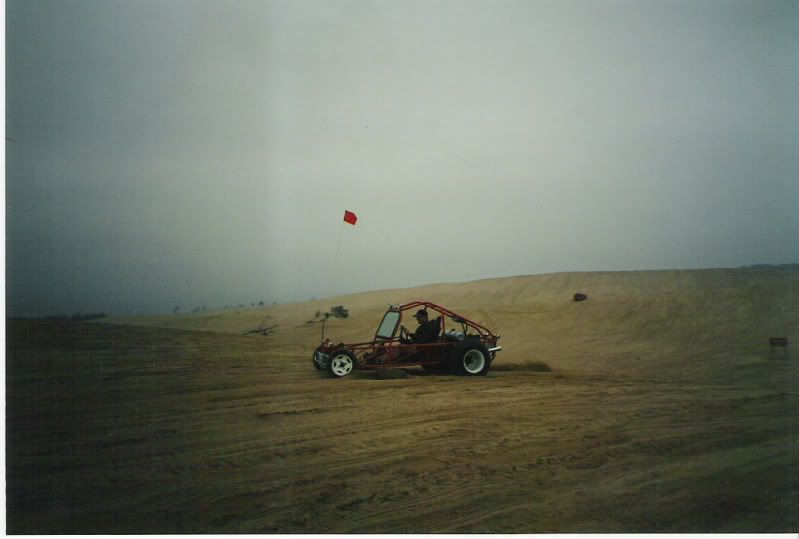 This is how we rolled that year. Kalvin got the big balls award for driving a basically unknown truck 700 miles towing. I also volunteered him to haul the firewood, hehe. Hey, someone had to do it, and there was no other option. Gotta have a fire!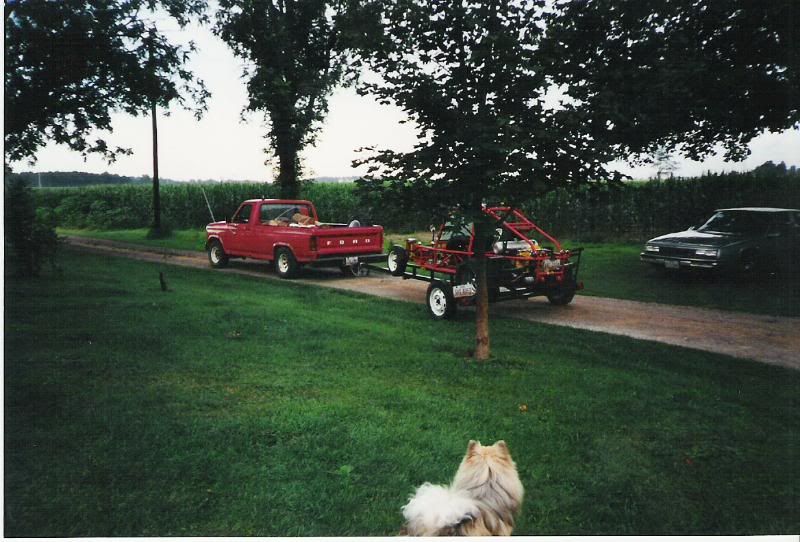 Dave went and got himself a family too!
And yours truly had to go and build a new trailer, and start selling extra buggies on the side. I was working at BajaMarine Corporation at the time, and they were replacing a yard trailer. 28' and surge brakes, heck yeah I'm interested! Got creative with the saw and welder and came up with this.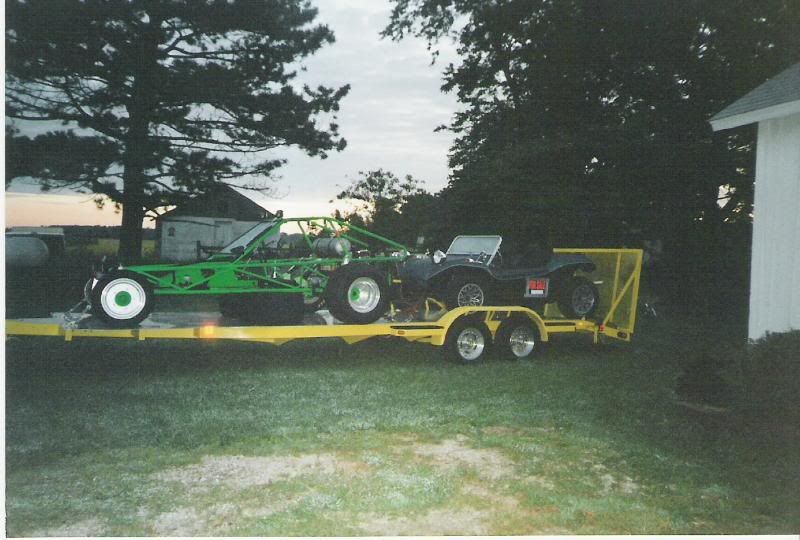 The first thing I learned on the Blue tub buggy was that the hard stiff street tires were not going to cut it. Got stuck on the entrance ramp in the second picture, that was embarassing. People were yelling to "let the air out", thing is I did, and even left the valve stems out, still not enough flexibilty in them. Brought it back and swapped on the sprint car tires from my sandrail (I had paddles too by this time) and problem solved. Father-in-law showed up just in time to help, so I turned the tub over to him. All 40 horse single port awesomeness of it. ;D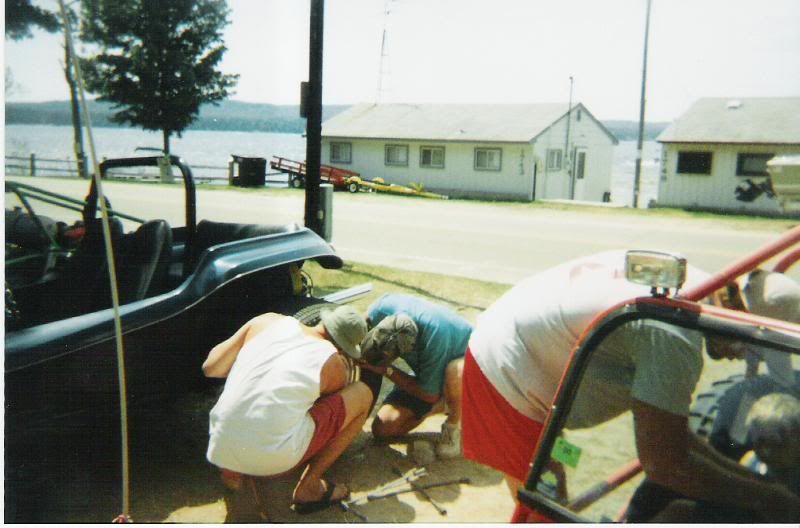 Sand newbie smile, once again. Never gets old.....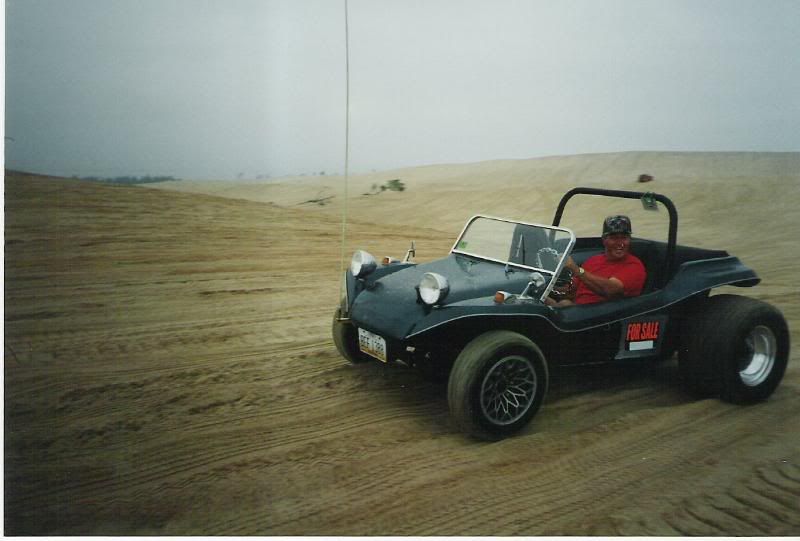 He's not afraid to run stuff hard. Notice daylight under the front right tire? That's impressive for a heavy buggy with street tires and a gas tank in the front, especially with only a 40hp engine. Did I mention he seized Kalvins engine?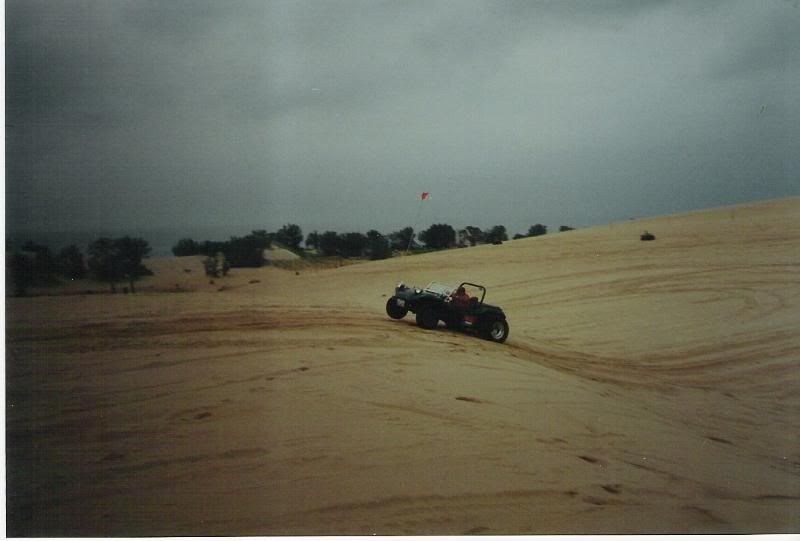 Then I let him drive mine. I was sporting a stroker engine and paddle tires at this point, and guess who didn't want to go back to the blue buggy?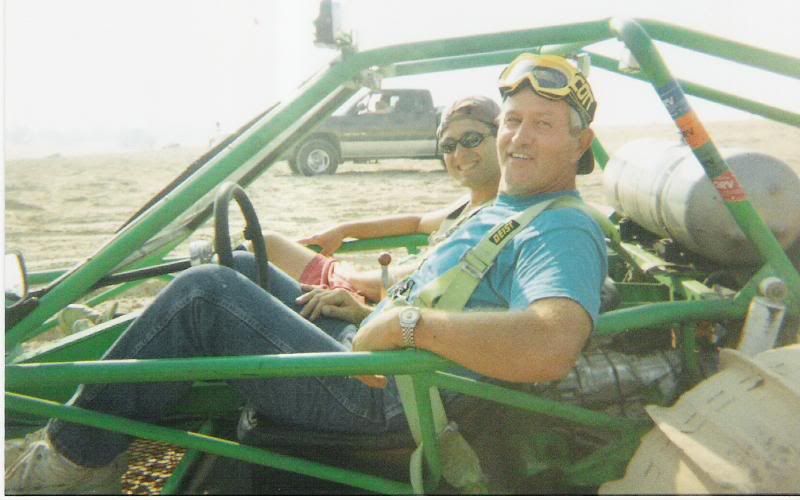 The blue tub was fun to drive around town in. Loved that steering wheel!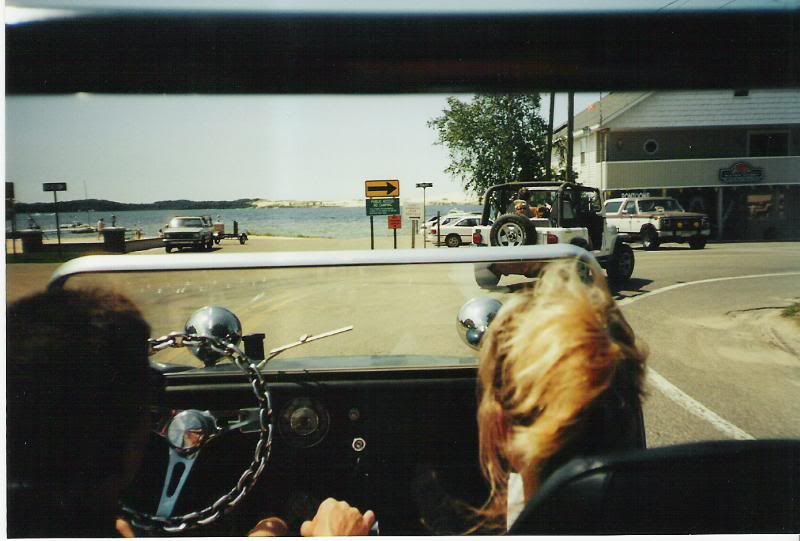 Father-in-law found a rail and bought paddles within months of getting back. Brought it along next trip, seemed to have some trouble with his tires though.... ;)
Darn camp gremlins. Nobody has ever claimed credit for this clandestine act of evil.
You see some interesting hauling setups. I like this one.
Spent time at the beach too. Freshwater waves are the best, I love the Midwests' inland seas!
See some strange things at the beach too. Is this a MerStiney or a StineyMaid?
Talked some friends into stopping by for a couple of days. Everyone is getting infested with these little people, what gives? Have to do some research and figure out what's causing that...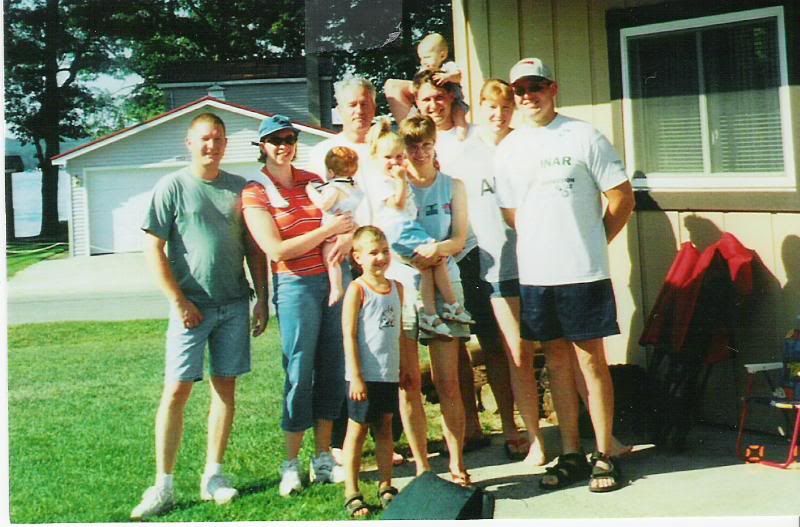 Back to the hills. Notice how there is always a game of musical tires going on, its fun to see how the different styles work in the loose stuff. Those sprint tires are the next best thing to a paddle tire, by the way. Cheap too.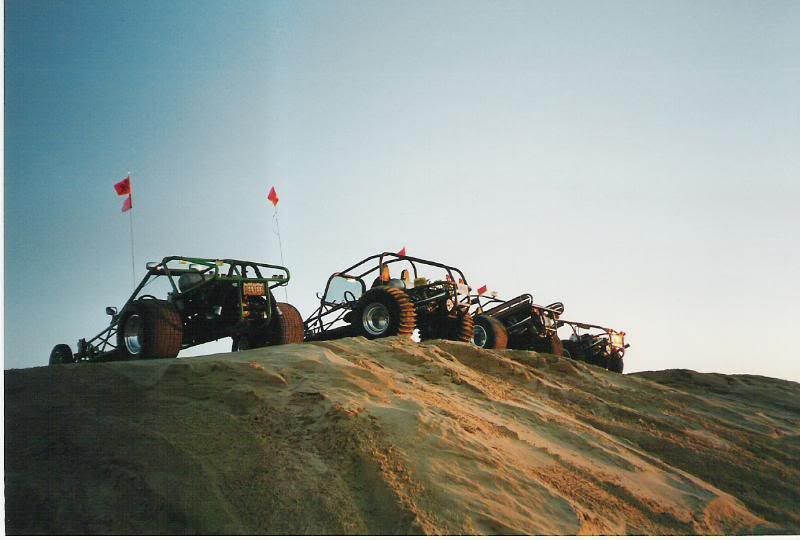 Sunsets are a big deal. Everyone goes out to watch them, its a big social event. Rarely get disappointed, this was one of the better ones.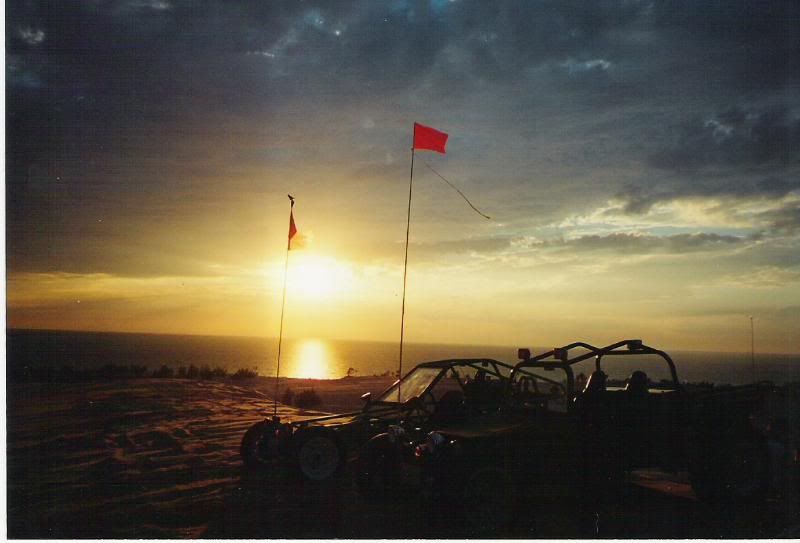 One of the latest group from last year.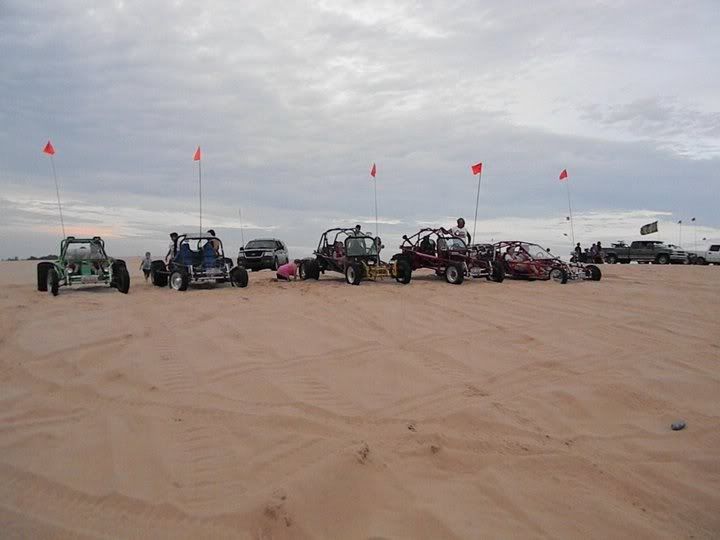 It took me years, and lots of modifications, but I can finally do this at will. Father-in-law has a job for me now, seems he's jealous?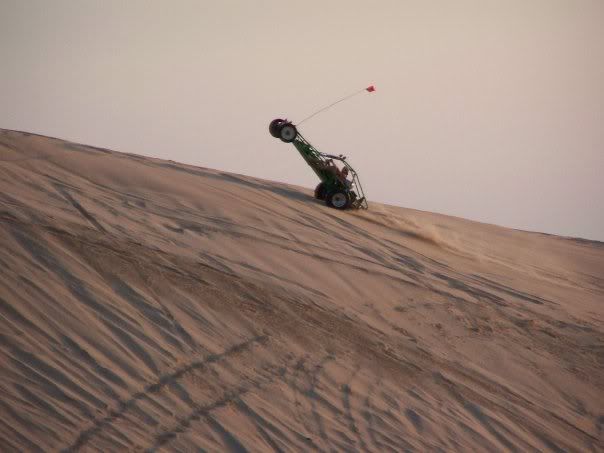 We love the sand so much, we had to go and buy some of it. That's my wife & oldest son right after we closed on the property.
I'll stop with this one for now. Gives you some perspective for the heigth/depth of the sand, that's the parking lot and the tree line. Notice how the dunes are higher than the trees?
Hope this didn't bore anyone. Its midwinter and 7 degrees today, I needed a little boost. Anticipating summer helps!