It's kind of a strange story, but ended up with this 1970 Dodge Challenger.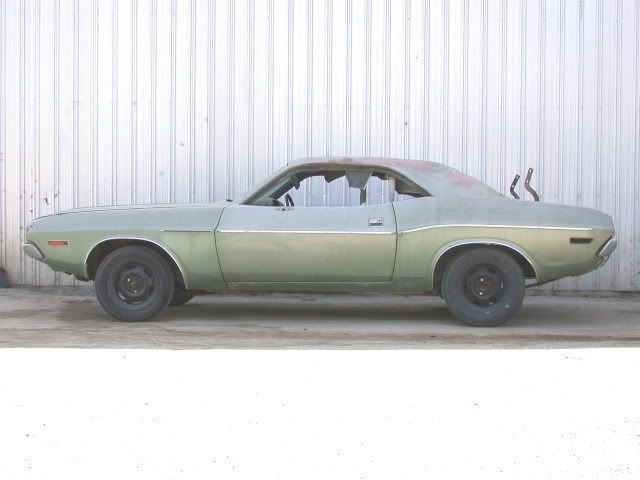 Way back when in the late 80's-90, I was building cars and moving a lot of muscle. One of the cars I dealed on was a '71 R/T Challenger out of Fresno, CA, which I picked up for 1000 bucks along with a trade for an iron Six Pack set-up off a '70 Charger, plus an AirGrabber 383 Road Runner air cleaner. Well, in 1991 I moved to New Zealand, and was out of the country for five years. I literally just put padlocks on the shop doors and left Dodge city. When I got back, it turned out that my shop had been robbed, and one of the things ripped off was the left front fender from the 71 Challenger. Man was I hot!
It was well before AMD started making those fenders again, so I was looking to find a used one. One way or another I connected with some desert rat parts-peddler out in Acton, CA, He sold me a fender for the Challenger. When I stripped it, the thing turned out full of bondo and rust, just ugly. It only added to my fury and rage over having been robbed and losing that fender.
I had been thinking about the heist, and the one distinctive factor was that Challenger fender. I had only known one man who might have had an interest in that part. Craig was one of those guys you always get when you run a shop with lots of cool cars. He'd swing by just to see what's been happening, and jawbone about cars. The thing was, Craig was a full-blown Schizophrenic, with madness coursing through his mind that you wouldn't believe. The lithium did help, though. He was on SSI disability for his mental health, and told tales of how he clearly heard Ronnie James Dio speaking to him with evil intent. Craig confessed that the voices often directed him to rape and kill. Craig also had a 1970 Challenger.
So, I stewed on it and though I hadn't seen Craig in over 6 years, I called and he answered. I said, "Craig, you know I haven't spoken to you in a long time." He replied, "Steve you were my angel, talking to you helped me a lot with the demons inside me." I felt very uncomfortable with that statement. I continued with, "Craig, my fender got ripped off; someone took the fender off my Challenger, and you are the only guy I know with a Challenger." He responded, "Steve, you know I would never steal from you." Sensing opportunity, I asked, "Well then, Craig, why don't you sell me your Challenger?" His response, predictably, was, "How much will you give me for it?" I offered $500. Much to my surprise, Craig's reaction was to state, "What, are you trying to do, do me a favor?" I followed by saying, Okay, Craig, I'll give you $300 for it, and the deal was struck, and it has been sitting around ever since.
The body of the car is pretty clean. So, what should I do with it?