Re: Fates of old drag cars?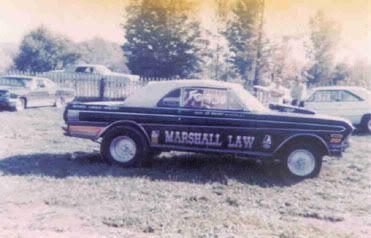 I was on the trail of this car for a while. This '65 Falcon Sprint Convertible was a drag car from new, and had good success in the Rochester/Syracuse area. It had all chrome straight axle suspension, a SBF stroker rumored to be about 330ci, a Weber carb setup, and a 4 speed. I had some old pics of it on the back bumper leaving the tree, and I have some old home movies somebody took, showing the car racing at a track in central NY. I talked with some people associated with it, some had even raced it for the owner, who never raced the car himself. They said that they would leave at 10k. See the name Marshall Law? It had a mural of Deputy Dog on the trunk firing his six-shooters, lifting him off the ground.
Three weeks ago I followed my best lead to date, and it seems the car was owned by a kid at one time who tried to turn it into a hardtop, then it sat in a field, and was ruined. A yard operator I talked to thinks he may have crushed it about 4 years ago. A replica may the only way to go now.