This car has been dormant way too long, time to wake it from its slumber!
You might as well grab yourself a cup of coffee. To get the full effect, I have to tell the story about this car. Back in '76, I was a high school sophomore, working at the local garage pumping gas, changing tires, etc. A very impressionable young mind full of mush, just getting my automotive feet wet. One of the "older" mechanics (he must have been at least 23) was always bragging up this 442 that he had. Every time some hot muscle car would pull up to the pumps, he would say "yeah, that thing is fast, but my 442 would take it". Well, to be honest, I didn't even know what a 442 was, so at the risk of sounding like an idiot, I asked him. He told me "4 barrell, 4 speed, dual exhaust, that's what it is. It's an Olds, the fastest thing around. Its got Hooker headers, an Isky Cam, a Mallory dual point, a 750 holley, verti-gate shifter and 4.88's. And ported heads with aluminum retainers. Sounded good to me, but how come I have never seen it, I asked. "Well, I put it away for the winter, don't want it to get rusty. A friend of mine drove it up from California, and I'm never going to drive it in the salt." He had me picturing this minted out beauty of a race car in my mind, and I was really looking forward to seeing it some day. I asked him about it a lot, trying to get a chance to go see it, but he kept putting it off.
The following spring, he came to me with an unexpected proposition. His folks were moving, and he needed to borrow a pickup truck to help them. Plus the 442 was in their garage, so he had to gas it up and put a battery in it and get it out of there. So how about letting him use my pickup for the up-coming week, and I could use his 442 while he had my truck? Uh, yes!
The next day, he took the tow truck, wheels it over to his folks house, and drags the 442 back to the garage. Whoa, this is not what I was expecting! That thing is ugly! The maroon paint was all faded and cracked, the convertible top was tattered, the carpet was AWOL, and the upholstery on the seats was literally shredded. The driver door had a big dent in it, and the left front fender had mis-matched paint and trim. It had definitely seen better days, but he proudly opened the hood and re-iterated all the modifications to the engine, and how fast it was, and if I got any tickets, they were on me.
Well, the statute of limitations is long expired, but still, I can not tell you how badly I terrorized our town that week. It's amazing I didn't end up dead or incarcerated. The fearlessness and foolishness of youth, foot to the floor shifting through residential neighborhoods, stop light duels with the top down, sheer panic as I find out how lousy 4 wheel drum brakes really are. By the time the week was over, I was in love with the car, and I asked him to sell it to me. "no way!" he said, "I'll never sell this car." Well I told him many times over the next 2 years that I worked at the garage, if he ever decided to sell it, I wanted to buy it. The answer was always the same. No, never.
Fast forward to 1980, I had graduated, moved out, and was living in Minneapolis, driving a 67 GTO convert. One day the phone rings and, surprisingly, it's the guy with the 442. I hadn't seen him in 2 years, but he tracked me down. He got married, was buying a house, needed money for the down payment, did I still want to buy the 442? Wow, what a happy guy I was! I was instantly bubbling with joy inside, but I didn't want to let on, in case he was asking too much. Well, yes, I'm interested, how much do you need for it? "I gotta have $700 to make my house deal work" he says. I asked if he could deliver it, he said yes.
This is the day it showed up at my house: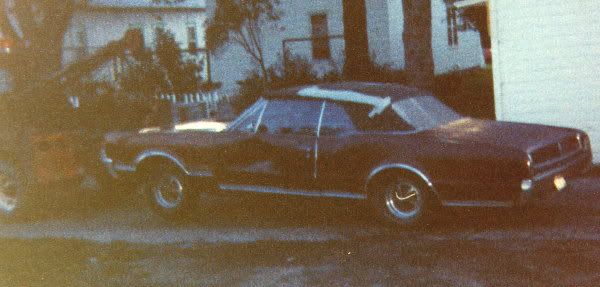 The only thing that had changed is that the 4.88 gears had been replaced with 2.73's, and the battery was missing. The car is pretty well optioned, with tilt wheel, tinted power windows and power bucket seat, power steering, brakes, and top.
Right away, I planned to restore it. Regretfully, I sold the Goat to raise funds and make room for the 442 project.
Here is a shot of the GTO:
I started in on the car by taking off all the trim, bumpers, top, etc. Then I went after the paint with a D/A sander and spread some bondo in the dents. I got most of the cracks sanded out of the paint, and was planning to try to paint it myself in the driveway. But my little Montgomery Ward air compressor couldn't even keep up with my sander, how could it keep up with a spray gun? So I started asking some painters about getting it sprayed. The more I talked to people, the more I realized that I didn't have clue. Everybody said that the old paint was way too far gone, it had to come off down to bare metal, and my bondo over paint would fall out.
Here is what it looked like at the time: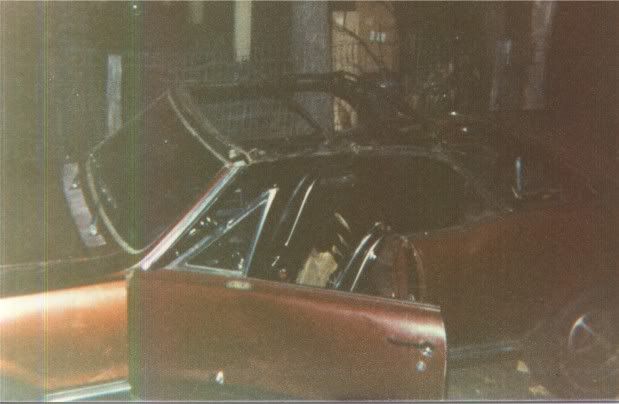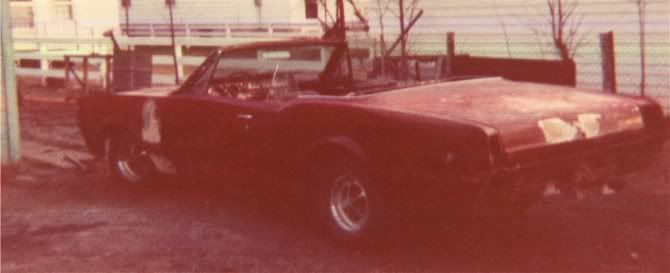 So I changed plans. I bought some BIX chemical stripper and got all the paint off. I found straight, rust free drivers door, left fender, and deck lid, and bolted them on to eliminate 95% of the body work. I took night classes at Vo-tech to learn how to metal finish, and massaged all the little dings out without using any bondo.
All nice and bare-naked: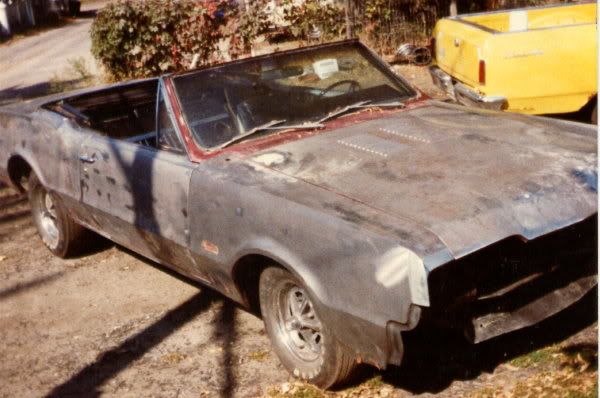 Then I had a pro paint it with hardened enamel, I put on a new top that I got from J.C. Whitney, redid all the brakes with new hoses, shoes, cylinders, and silicone fluid, put in 4 new coil springs with one coil cut out of the fronts. I also added some cool custom stuff, like an Am/FM/ Cassette player with a built in CB radio, a multi function power antenna that worked for the radio as well as the CB, and a Zemco driving computer that displayed MPG and trip info, plus had a cruise control.
Back then, there were no interior kits, so I decided to do my own custom interior. I borrowed my girlfriends grandma's sewing machine, bought a bunch of black crushed velvet fabric and some foam, and sewed up a tuck and roll interior. I used red inserts in the seat backs to emulate the Olds Rocket insignia, and was going to have someone embroider in the rockets in silver. It turned out pretty good for a first timer.
Here is the old seat upholstery next to one of the new covers: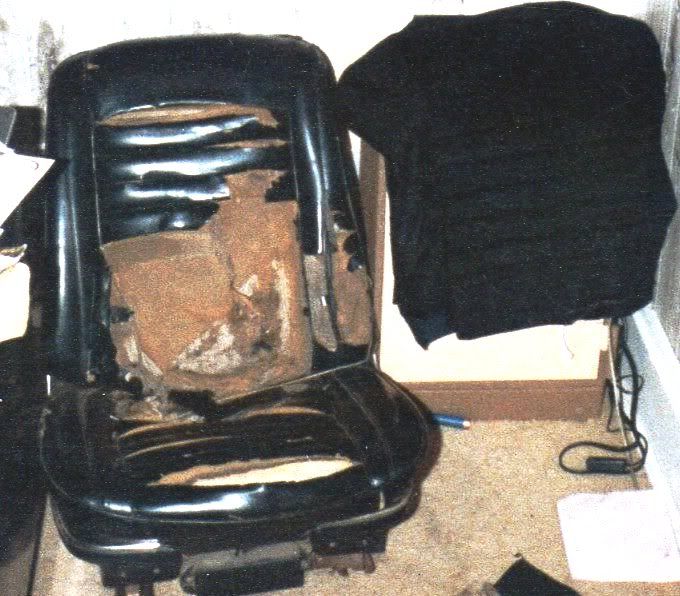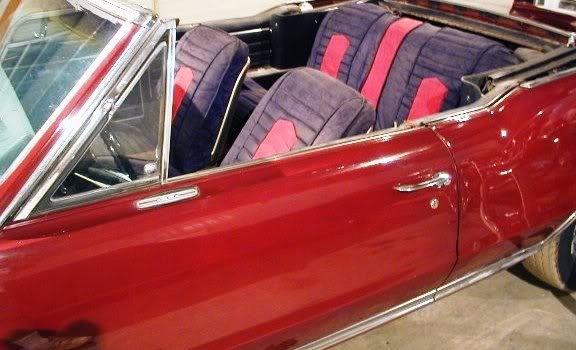 Finally in April of '82, it was "done." Literally within a week and with less that 50 miles of testing, my girlfriend and I took off on a 6000 mile, 3 week trip from Minnesota to Phoenix, Grand Canyon, Havasu, Los Angeles, up the coast to San Francisco, Washington, Courde'lane, and home. It was a great trip with a lot of fun memories. Even back then, the car got a lot of attention, and was a conversation piece. With the 2.73?s, it also pulled down 17 mpg.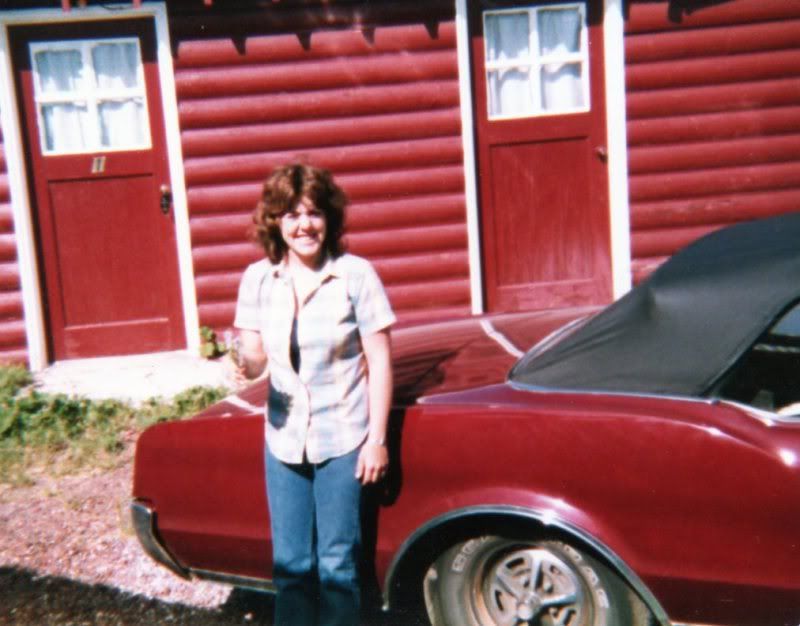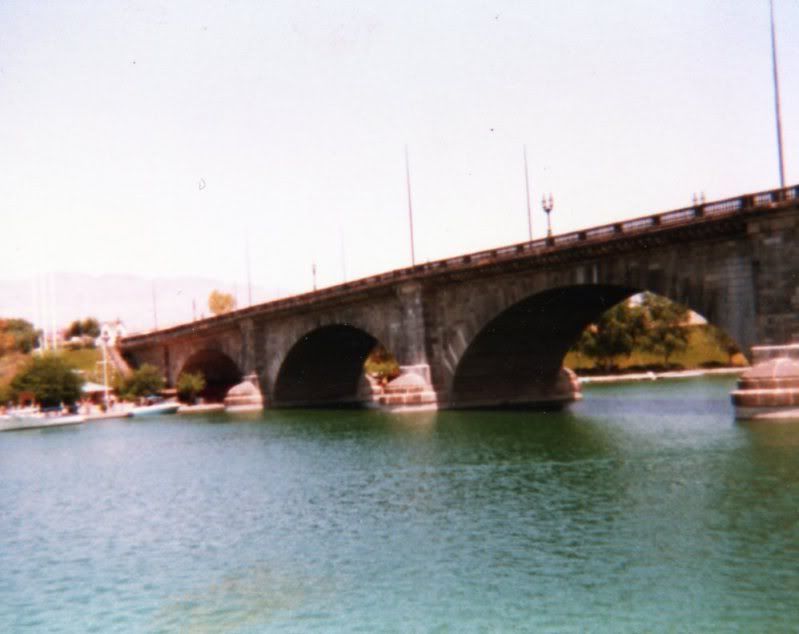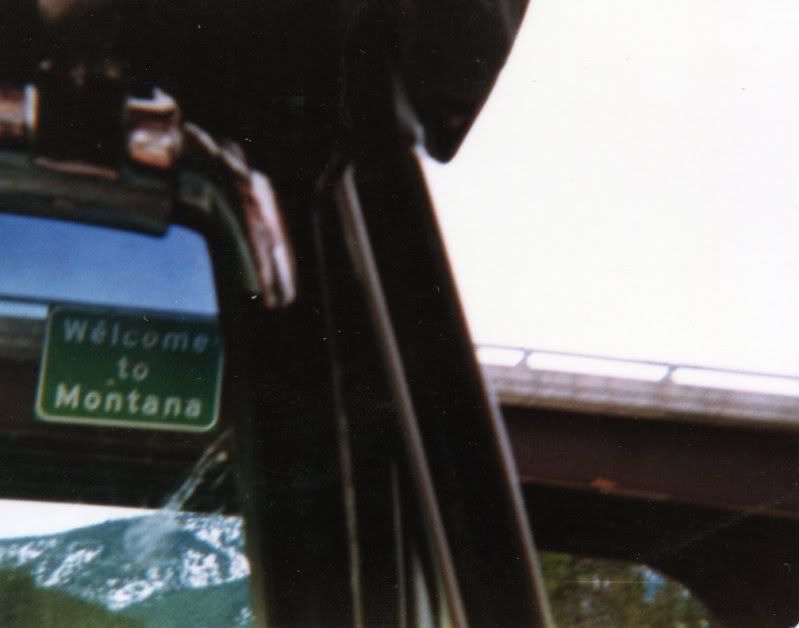 Back at home,
I was driving the car daily in the summer, and engaging in an occasional stoplight drag race. On one such occasion, an old Galaxie with who knows what under the hood was getting the better of me, and I pushed the Rocket 400 a little to high. 20 miles later my oil pressure was down to 10 psi, and the motor was making some ugly sounds. Uggh. Spun a rod bearing.
So I found a 425 out of a Starfire, swapped my good heads and stuff onto it. (the cam wouldn't fit) At the time, I also stuck a chev 12 bolt posi in with 3.23 gears, and
traded the close ratio Muncie for a wide ratio figuring that the lower 1st gear would work well with the 3.23's.
Here is a pic dropping in the 425:
Eventually, winning a street race against a crotch rocket, wiped out the 425 Rocket, and I started planning a serious engine upgrade. I found a guy in southern California who was selling a well built 455, with really nice Mondello ported heads, steel crank, 12.8:1 TRW's, a fireball cam with sharp roller rockers, etc. It was running 11's in his 65 442, and he was selling it to build a blower motor. I drove my little Dodge Rampage to LA to buy it, and also ordered a Doug Nash 5 Speed to back it up.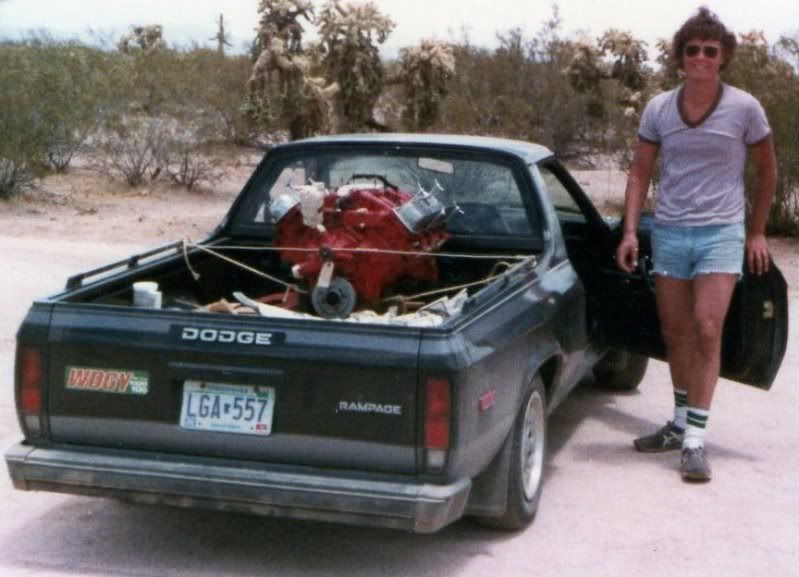 Ready to drop in the new goodies:
It didn't take to long to figure out that the fireball cam was way to radical for the street. The duration was something like 328 with about 475 lift. So ordered a new cam from Chet Herbert with a little more lift and a bit less duration.
Putting in the Herbert cam: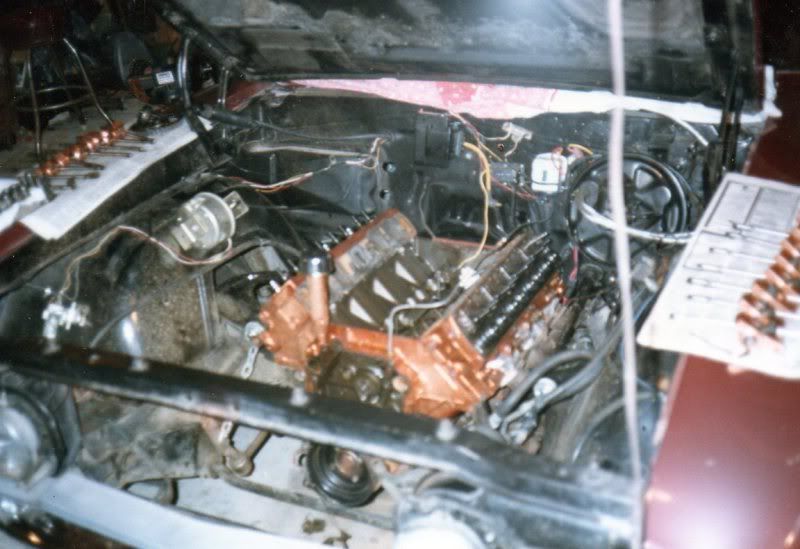 This ended up to be a sweet combination. The deep first in the 5 speed got it off the line quick, the 3.23's were great on the highway, and the 455 had gobs of power. I put a ton of miles on it, even pulled a camper on trips:

But by '87 the motor was getting pretty tired, with lots of blow-by, and the leaded high test fuel that it liked to swig down had disappeared from the local stations. I was starting to think about re-doing the motor. Then it broke a valve spring, and that chewed up an aluminum rocker arm. So that winter, I yanked out the motor and tore it down. It was going to need custom pistons, new rings, bearings, timing chain, valve guides, valve job, springs, rockers, etc. After adding up the $, it was more than I could afford, and I was just getting my new roofing business started, which was an 80+ hour per week ordeal.
So the car sat. (inside) And months turned into years and years into decades. Other cars and projects have taken priority. But now is the time to rejuvenate this blast from my past! I'm committed to have it ready for Power Tour 2011!
Since I already spent all my spare dough on other cars, I'm going to do this on a budget.
And it is going to have to run on modern junk gas.
So I pulled a low mileage 455 out of an old mans '76 '98.
Got it all steamed off: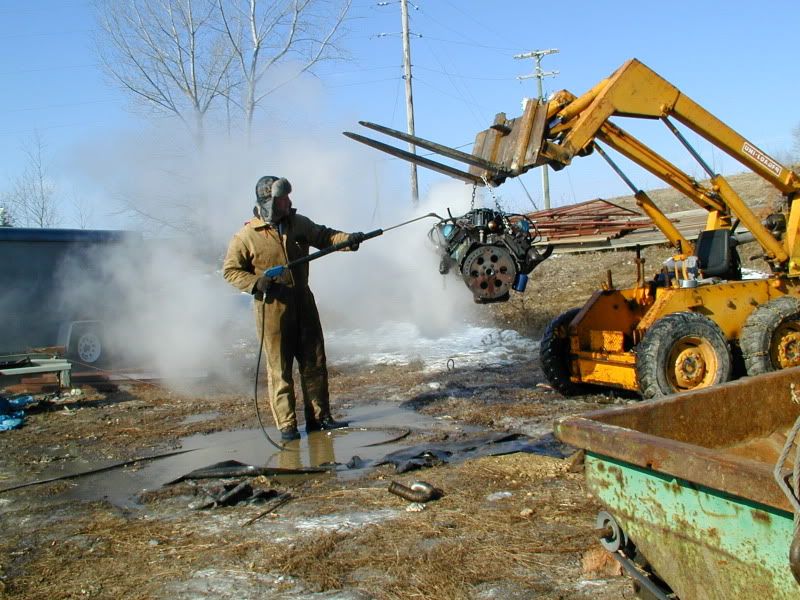 And have it in the shop.
I've been scraping up deals on parts,
I have a barely used comp cam and lifters, new oil pump and timing chain, a performer intake that I just need to weld up a little crack on, and I scored a set of big valve "C" heads that supposedly only have 5 miles on them since a complete rebuild. I need to transfer my 7/16" studs, guide plates and hardened pushrods from the old motor, and I need to find 2 roller rockers to make my set complete.
I'm going to re-do the interior, and replace the top. It will need new tires, and I'm sure the fuel system will need serious cleaning out.
I'll keep you posted as things progress!
Bye for now, Joel