Late last year I started thinking about something else to use as a track day car instead of the crapper Taurus SHO that I have been running for the past while. The SHO has been fun, and a good performer, considering the relatively small investment, but I found myself missing both RWD and torque.
I had been looking at the 2011 V6 Mustangs a bit last summer, thinking that one of those as a used car in a year or two could make a fun track car, but it would still take more money than I wanted to spend for this. A bit more pondering led me back to what I know, Fox Mustangs. If I did a mild build-up, being careful not to get crazy with the engine, suspension, or brakes, I could probably put something together that would be reasonably quick, reliable, and most importantly, fun!
Driving a friend's nicely modded Fox at the annual "Mustangs at Mosport" for a short session a few years ago reminded me how much fun these cars can be with the right mods. So a few months ago the search began in earnest for a car that would suit my needs. I was hoping for an 87 LX 5.0L hatchback, for a few reasons. First, the hatchback body style is much more practical for a track day car that is being driven to (and hopefully from) the track, even with a cage in these cars you can still load in a mounted set of tires, a tool box, some parts, and your gear and helmet bags. Secondly, an 87 would be old enough to be exempt from the biannual emissions testing here in Ontario. And thirdly, that was the year and model of my old race car that had started off as my brand new street car, almost 25 years ago now.
But to be realistic, I had to widen my search parameters a bit, so I would have taken anything from an 86 to 89 LX hatch or GT. I had also been considering a return to wheel-to-wheel racing, but with Canada?s vintage race association, VARAC. They have a very strict no-contact rule, and are more about the fun and sportsmanship of racing than they are about a win at all costs attitude.
This would be a nice step between the lapping days that I have been doing for the last 10 years, and the LeMons and Chumpcar races that I have competed in a few times. 1989 is the newest vehicle that is currently eligible to use in VARAC's Group 70+ category, and even then, it has to be prepared to the regulations of a race series from that time period. So that means all of the fancy stuff that has been introduced for the Fox cars in the last 10-15 years, the coilover spring kits, the torque arm rear suspension, the tubular K-members and control arms, would not be permitted if I wanted to race in that series. It would be restrictive for the build, but it would also keep me from getting carried away with the budget as well.
So after scouting around on Craigslist and kijiji for a while, my wanted posted on a local Mustang forum netted a response. The car was about an hour north of me, sitting up on stands in the backyard of the owner's mother. The owner had bought the car from a friend minus the engine and trans as a project, but a new job in western Canada took him away before he could get much work completed. He had dropped in a low mileage longblock from a 90 LX, and started to change the car over from AOD to T5, pedals were in place already.
I made arrangements with his cousin, also a Mustang enthusiast who still lived in the same city as his aunt, to take a look at the car. It was a black 89 GT that showed less than 100,000 km on the odometer, but it had a bit of body damage on the cowl and roof from a hood flyup incident at some point. The interior was in very good condition, unfortunately it was also the dreaded "porno red" version. People who reside in the south and western U.S. would take this for granted most of the time, but underneath the car was almost unbelievably clean. I had to think that this car had never seen in any salty Ontario winters in its life, which is getting tougher to find these days in a 20+ year old Fox.
The previous owner had tried to sell the car last year at $1500 with no takers, which I though was a reasonable price considering the state of it, but he told me that he would take $1000 to get it out of his mother's backyard, and see it go to a good home. So I committed to the deal, and just had to be patient to wait for the snow to melt down enough so that we could extract the car from the yard. The last few weeks we've had enough decent weather in southern Ontario that the snow was pretty much gone, and this weekend promised clear, cold, but sunny weather. I made arrangements with a friend to borrow him along with his Super Duty pickup and tandem axle car trailer to get up there on Saturday afternoon to bring the car home.
Here is the car as it looked a few years ago, the photo supplied by the previous owner:
Loaded up on the trailer, ready to head home: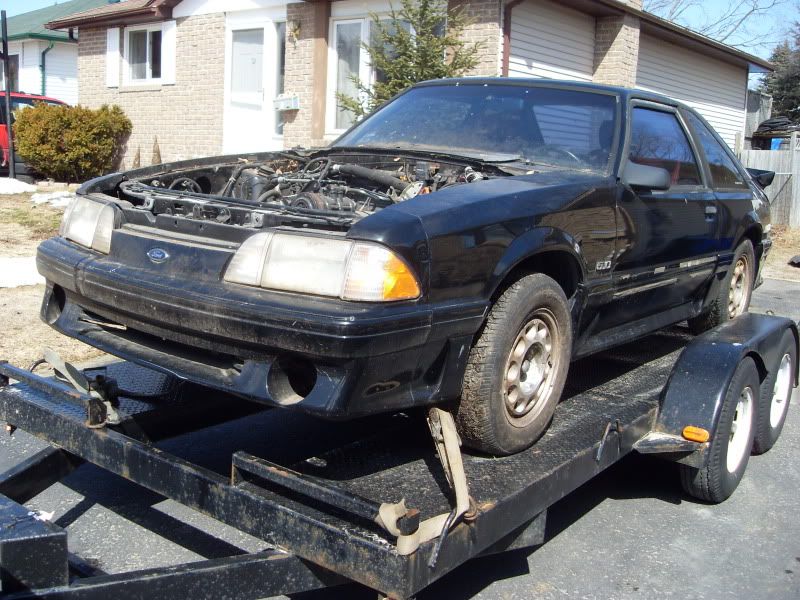 Unloaded in the greenhouse behind the shop at home:
The engine bay as it was: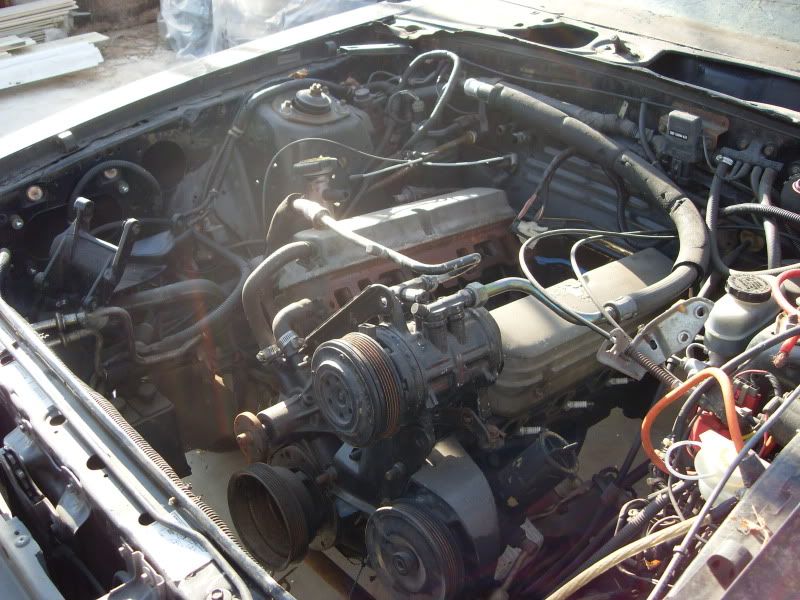 Left side shock tower / firewall:
Right side shock tower / firewall:
The porno red interior: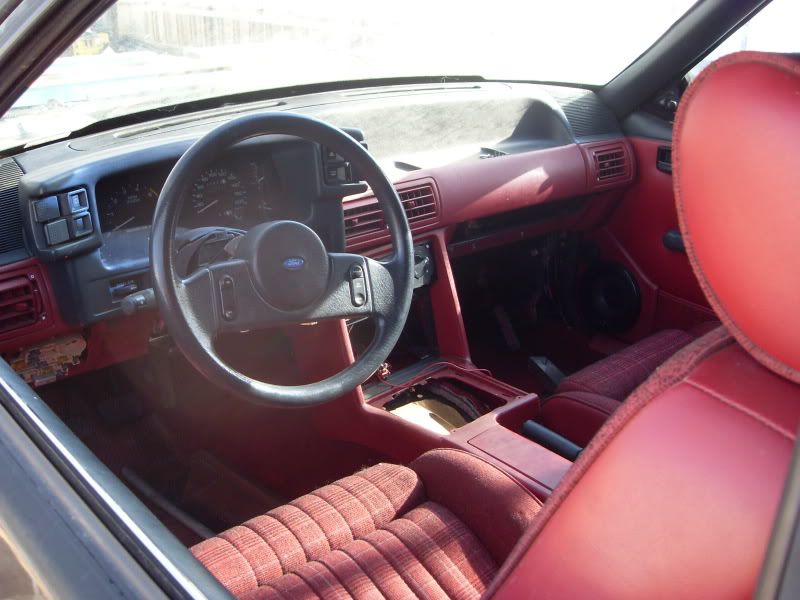 Rear view, already has the Saleen style wing that I wanted to get: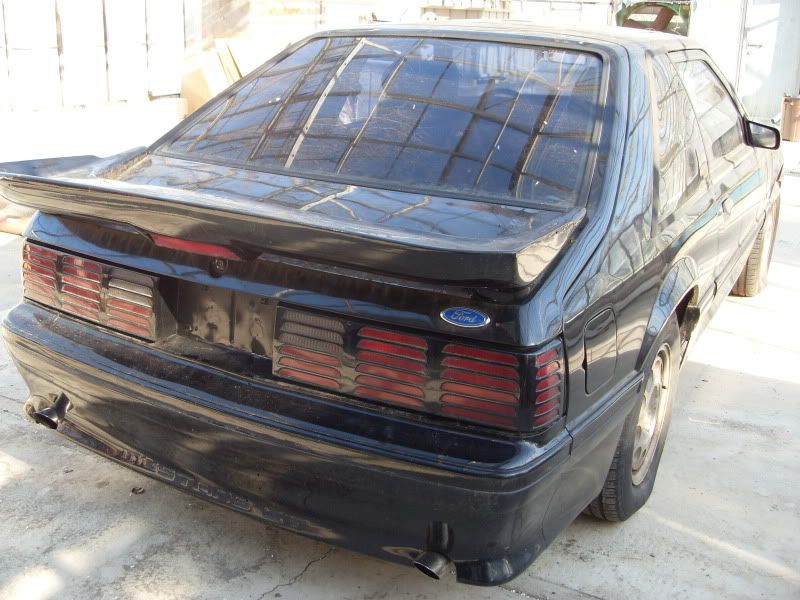 The past month I have been collecting parts for the build. The idea is to build the car as it might have been done in the late 80s / early 90s, with parts that were available at that time. If I were to make the step to run in VARAC vintage racing, the car could be presented as a Saleen Mustang, similar to the ones that ran very successfully in the SCCA Escort Endurance series through the late 80s. That will require changing the bodywork from GT to LX, which I am prepared to do later if I decide to go racing with it. The beauty of this approach, is that much of this stuff is available at very good prices on the used market, since it is not as desirable as are the more modern goodies now on the market for Fox and SN95 Mustangs. Would like it to end up looking something like this: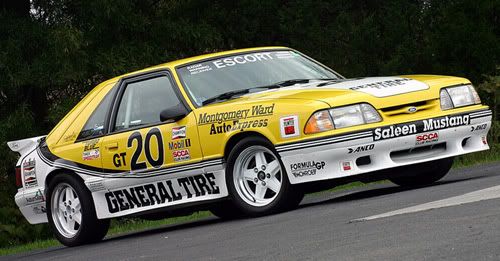 Some of the pieces already on hand ...
16 x 8 (rear) gold mesh style Saleen wheels, 4 in good shape, 2 a bit tougher: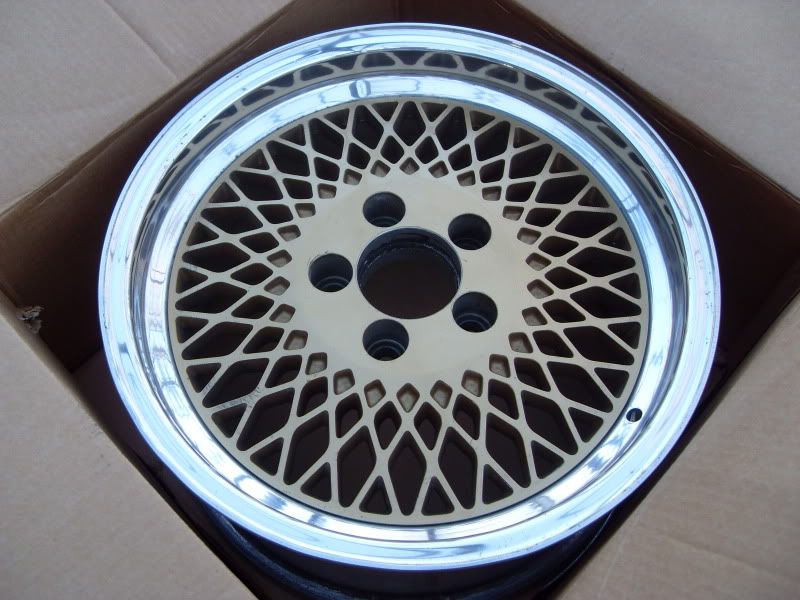 16 x 8 5-spoke gold Saleen wheels, 2 only: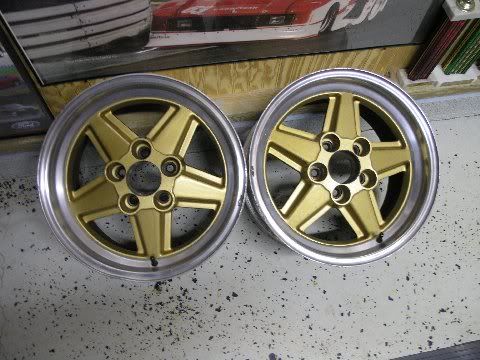 Set of 16 x 7 and 16 x 8 5-spoke grey Saleen wheels, will sell the pair of 7s and combine the other 2 to make a full set of 8" wheels with the gold ones ... haven't decided whether to do them all in gold or grey (probably grey):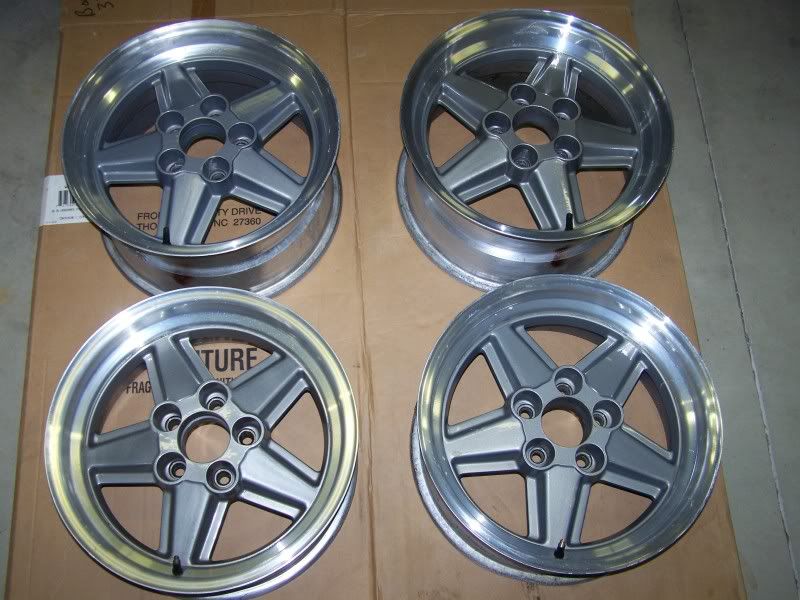 Maximum Motorsports revolved Bilstein front struts: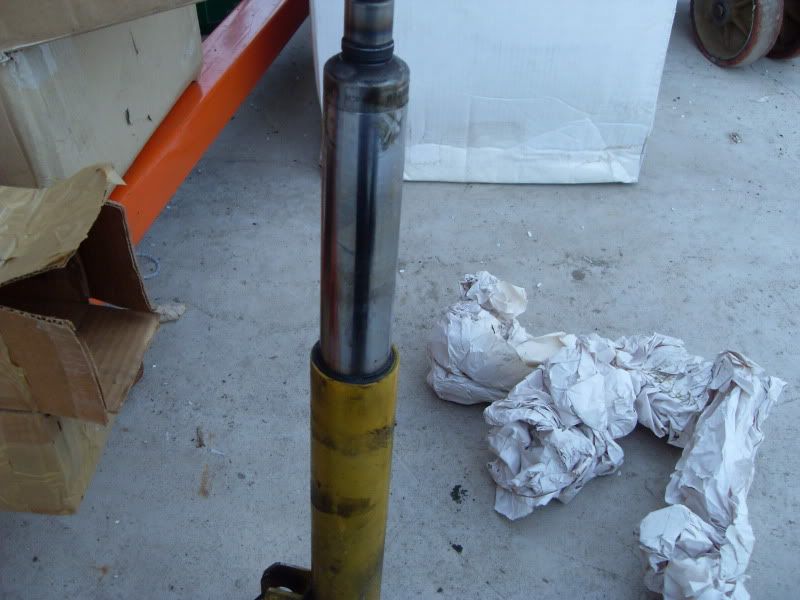 H&R Super Race front springs, these and the Bilsteins are a bit newer than I should be using, will probably switch to Koni Yellows at some point, have an old pair for the rear sitting around from years ago: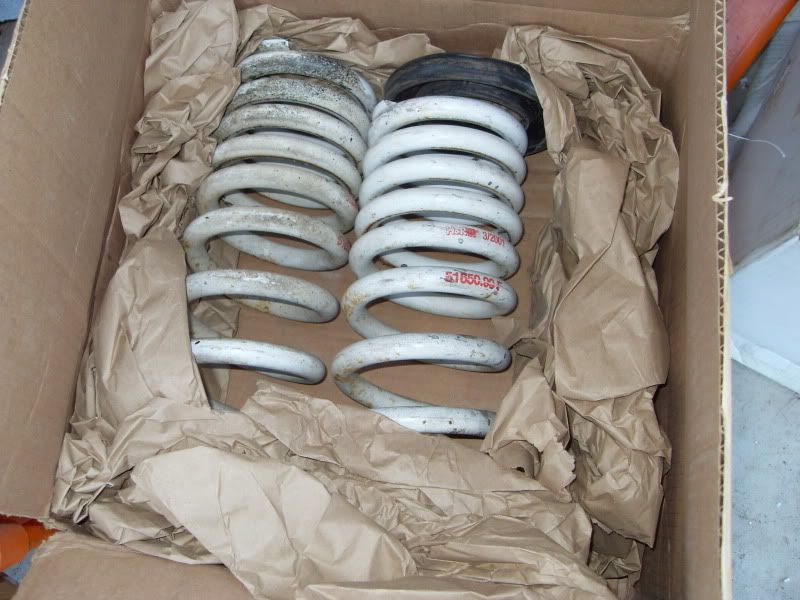 FRPP aluminium radiator, also a bit newer than the era of the car, but I couldn?t pass it up for $100 (which ended up being $50 at time of pickup because it was very dirty by the seller?s standards: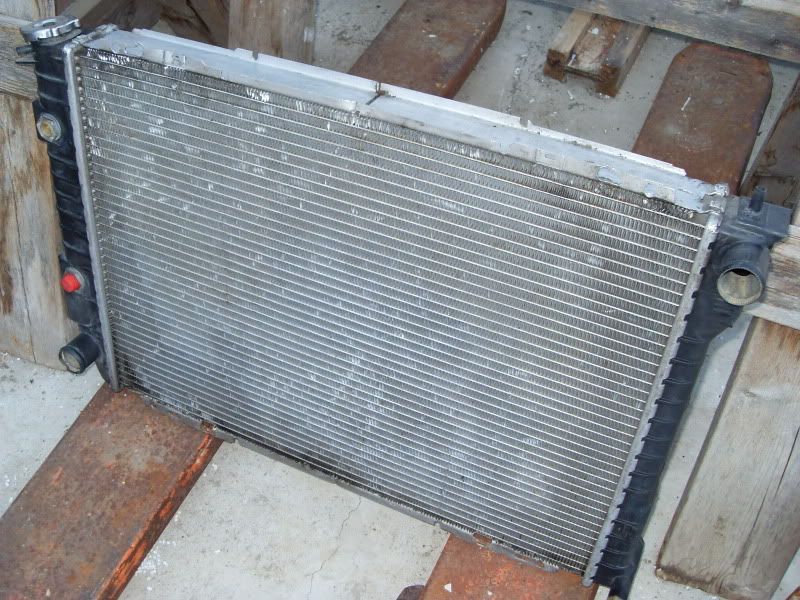 Old FMS 140 mph speedo with only 60 miles on the odometer: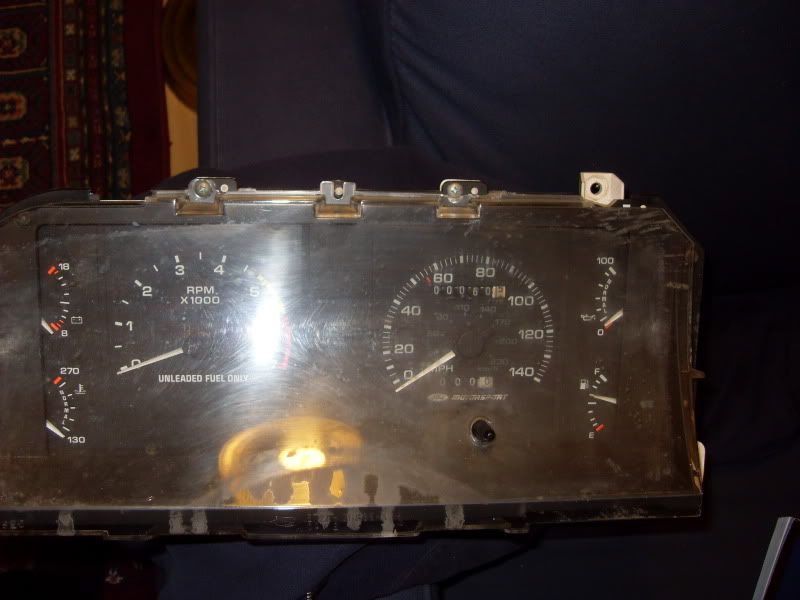 Cleaned up lower intake and old school FMS 65 mm throttle body: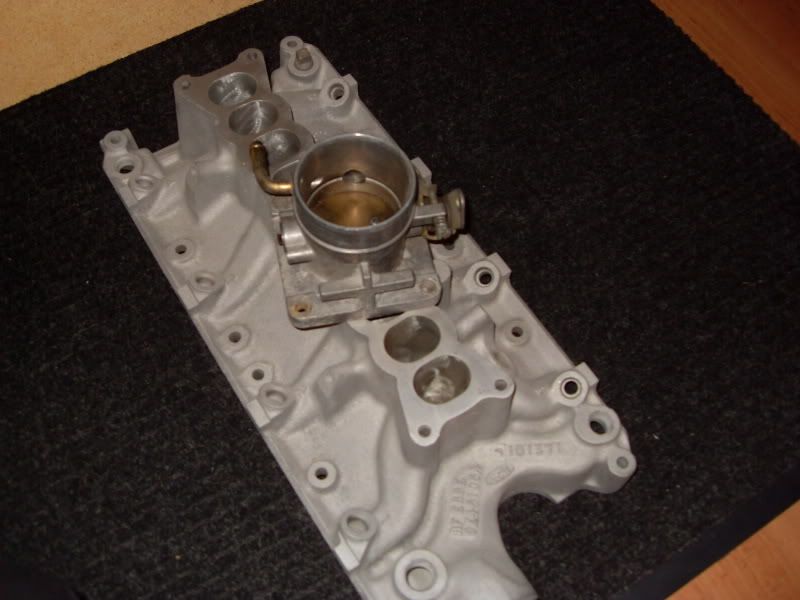 FMS 1.72 E351 bolt-down roller rockers and FMS air pump eliminator pulley and bracket:
Tilt column, will make it easier to get my older, less flexible body in and out with the race seat in place: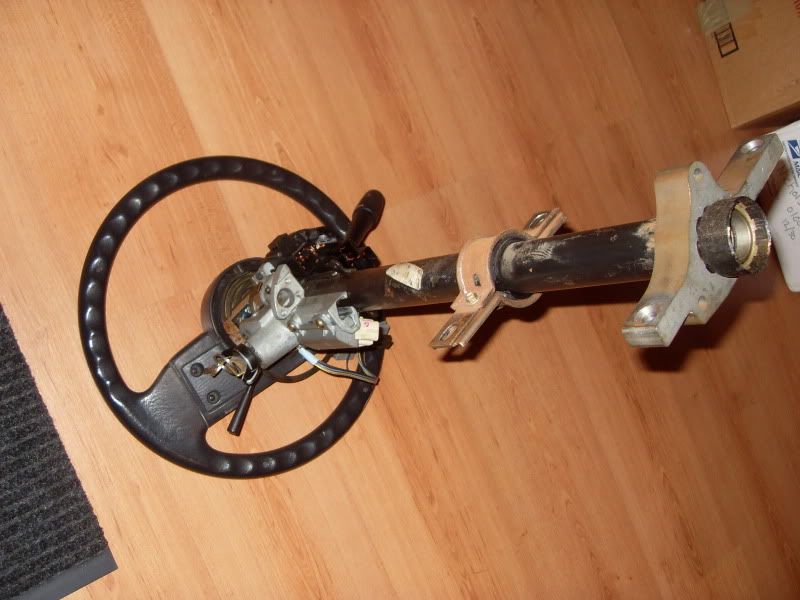 Will continue with some shots of the progress that we made on Sunday ...