So I've hooked up with a group of local VW guys that get together monthly, they seem like a good bunch. I had mentioned about wanting to drop the engine out of the Beetle to get at some oil leaks, and do a general cleanup and detailing in the engine bay. One of the guys was nice enough to volunteer to assist with the project.
Started with this:
For those of you not familiar with them, the Bug engines are held to the transaxle with 4 studs, and then it's just a matter of disconnecting a few hoses and wires, and out it comes through the bottom: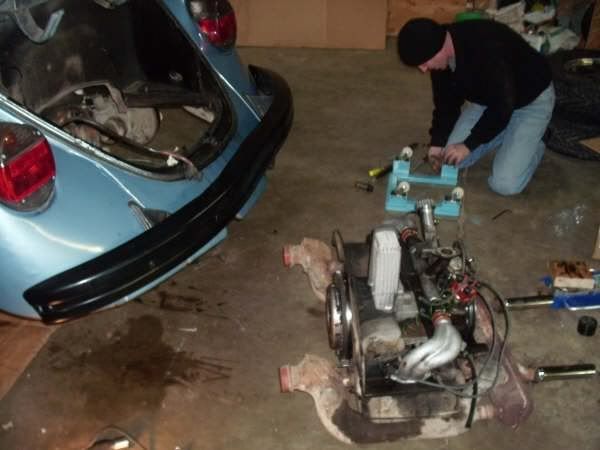 We had to remove the fan shroud to gain some height clearance, as I didn't have a pair of jack stands tall enough to get the engine right out from under the car otherwise. That's me filing the holes on the little p.o.s. engine dolly I got for the job, the casters didn't line up with the holes in the dolly.
Ended up with this:
The guy who helped me mentioned that he had traded a small dual carb and manifold set to one of the other club members, and he thought that it might be available for sale again. So I've made arrangements for that, it's a dual single-barrel Weber kit that is sized just right for a stock or mild engine. Between that and a header and exhaust, it will perk up the car a bit for this summer, and just plain look a lot cooler ... the opposed format of the VDub engines are just crying out for dual carbs. This will work for a while, until I gather enough parts to attempt the Toyota Roots style blower install with a Megasquirt.
While the engine is out, I am going to get the shroud and cylinder tin cleaned up, and my buddy Stu is hopefully going to have time to powdercoat them in his little home garage setup. I want to get everything reassembled by the end of February, that's when I move out of my current location.
More pics to follow as work progresses. ;)
cheers
Ed N.