This car is my first car. While the '67 Malibu that I am currently the steward of brought me home from the hospital and was on the scene before this one, this is the first car that I bought.
An older brother of mine bought the car late in 1992, at that point it had 77k miles on it. Seems like last week. Anyway, he unfortunately passed away in a 5.0 Mustang in January of '94. The car sat for a few months, and in the spring my parents put it out for sale. Another brother (65 L79 here at FJY) did a state inspection on it, and his wife drove it. She liked it, so they bought it. They drove it very little, and after basically sitting for a year, they decided to sell it. After much discussion ;) my parents allowed me to buy the car. I was 14. The only condition my parents put on the agreement was that I not drive it until I graduated from HS. It was of course driven to my graduation.
I drove it stock that summer (1998), and that fall yanked the rather anemic 305 out in favor of a 350. I also rebuilt the 700R-4 (that was put in while my brother was driving it in 1993) shorltly after that. The rear went the next summer. The car sat from August '99 until October 2000 while I took a one-year service commitment in the state of Oregon.
When I came home, I found a posi rear at a junkyard, but it was burdened with 2.41 gears. While it was a bit weak off the line, that thing was a rocket ship with those gears. It tached 4500 at 140 mph in third (!), as clocked by my buddie's crotch rocket. The fastest it ever went was 4800 rpm-- I'm not gonna try to calculate the speed. It was scary with the stock suspension. Anyway, after a year or two of that foolishness, a Moser 12-bolt with 4.10's went in, with 11" drums from a '65 Impala. ls7gto pretty much put that in for me in exchange for some garage door work.
At the time the rear was replaced, I also ordered some Global West lower arms and Edelbrock uppers. I did that because that gave me spherical ends in both peices. It rides and handles awesome, and there has been no wear. Somewhere along the line the car got a tall spindle conversion up front. Not sure what year that was.
In 2004 it got a NOS Super Power Shot. With that, the car has seen a best of 11.61 @ 113 mph. Best on the motor was a 13.20 @ 103.
The Malibu is the car I treasure more, but I have had more fun in this Monte than a guy should have.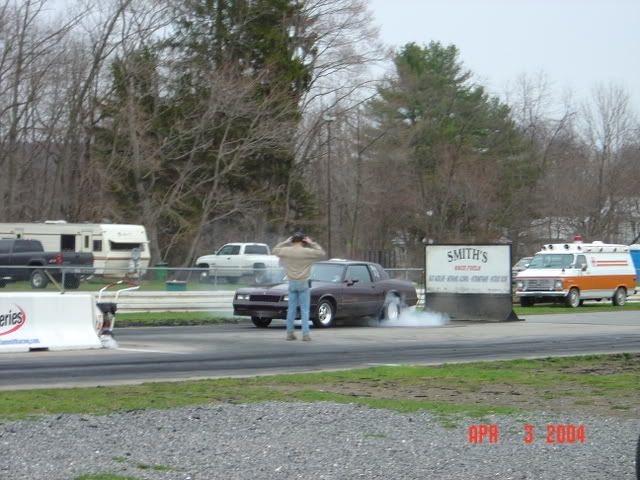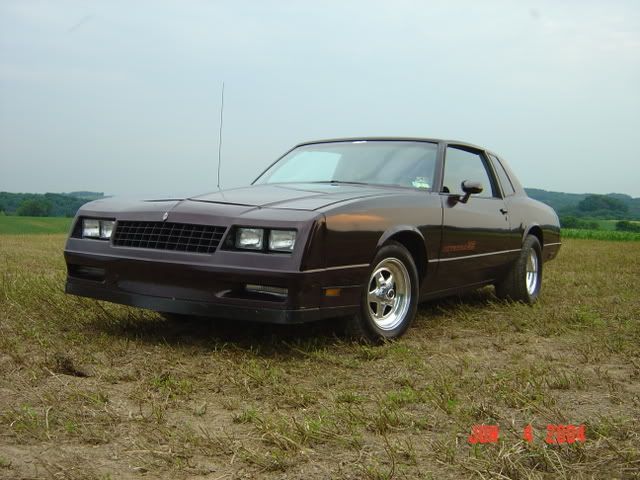 Not pretty; the engine compartment is a pure disaster.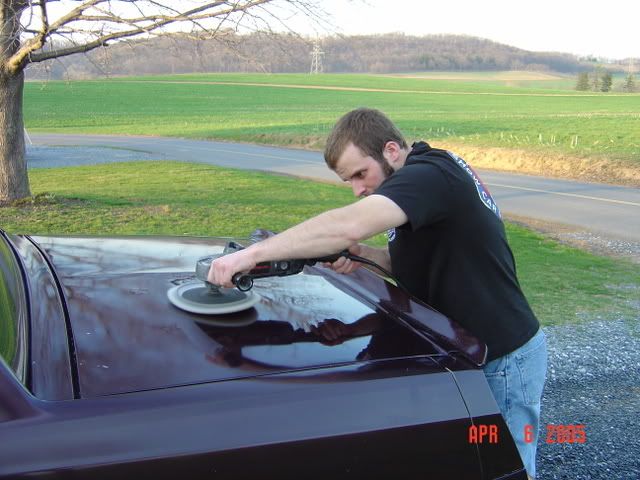 Melted a plug on a nitrous pass. :P
These pics were taken an hour or so before my GF and I left for the Woodward Dream Cruise in 2004.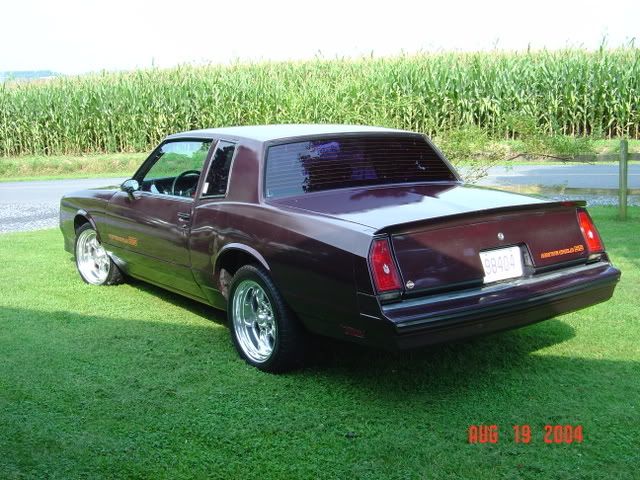 This pic was taken at the launch of the best run it went.