So some background. My 1st 4x4 was a 1971 FJ 40 with a Ford 302 in it. The other long-term FJ I had was a 1960 FJ40. For those in the know, the FJ came to the US in 1959, so this was a 1st attempt. It had this same 6 in it, and it was beyond gutless.... that said, it'd climb anything. It almost killed me more times than I can count on the Rubicon trail... but I loved it. Enough that over the years I owned 5 more. Recently, I was simply perusing Seattle Craigslist and I found this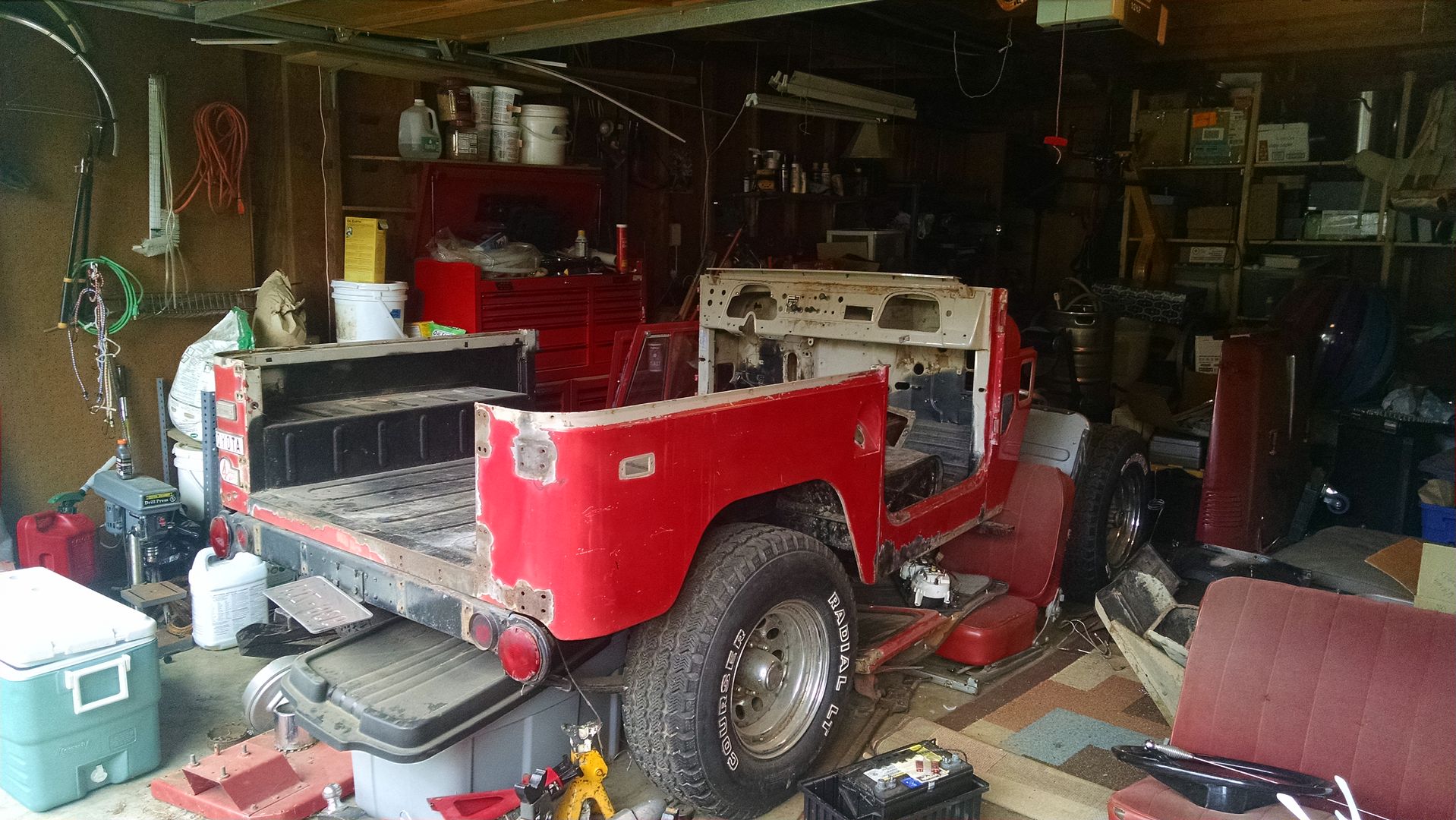 to any Land Cruiser guy, they'd look at this thing and think "wow" they normally rust out at the rail under the rear doors... this one is solid.
with that said... it will require some assembly and I think the PO liked red.
note the cool tuck n roll roof?
straight 6
Honestly, I don't really have a build plan for it. Part of me wants to screw together one of my countless 350 chevy motors, slap some vortec heads on it, efi and call it a day. On the other hand, I think a 12v cummins diesel would be pretty trick in this thing or a 4bt or a Isuzu diesel.... I have a 5 speed aisin transmission from a Colorado, so I might use that behind this - that would limit power and torque to 200/300 respectively.
For suspension. either I'll do a spring over, spring reversal and power steering addition, or I'll do a 3 bar front 3 bar rear with disconnectable sway bars and coil over springs....
So there that is, either stupid simple or stupid expensive simple.
Exterior... winch, 38" tires some protection like sliders... but nothing to detract from the simple lines of the FJ
Interior - suspended seats, some dynamat and indoor outdoor carpet and a full cage.
But as I only have the raw material - I am listening to what others think... might ignore you, but oth, you might come up with the most awesome idea ever. Lots of my builds wouldn't have happened without crowd suggestions...
​
anyway, this is my winter build... yeah, I know for all the rest of you you expect other builds... but they really aren't ready to move forward. What will probably happen is at least a couple of my running vehicles will go away.
Of course, at the same time the Land Rover is going to move forward, but it's mostly mechanic work - not a full build like this one.