"Mattel entered the miniature car diecast market in 1968 with an assortment of 16 cars sold under the name "Hot Wheels." The company specifically set out to design a product that could compete head-on with other diecast car lines, of which the leader was Matchbox, produced by Lesney Products in England.

The cars were an instant hit with not only boys, but girls and adult collectors alike. They were painted in bright, reflective colors, referred to as Spectraflame by Mattel. Most of the cars were based on popular American muscle cars that had not been well represented by other manufacturers. The cars were raised or "raked" in the back for the "hot rod" look, which was a popular trend in California at the time. All of the models had some additional customizations, such as side pipes, custom "power bulges" on opening hoods, customized engines, and detailed chassis (bases), with black vinyl or painted roofs. All Hot Wheels cars could also be easily recognized by their stand-out wheels which sported chrome hubs and red lines (reflecting another popular look at that time). Collectors refer to the early Hot Wheels cars as "Redlines" for this reason.

The cars were originally listed in the 1968 catalog as being available in two colors each. When sales exploded, that quickly changed. All of the cars for 1968 have been found in at least nine colors, and for some models, as many as 16 different colors are known. There are also variations of some colors that expand the colors available to 20 or more.

All models from 1968 were manufactured in both Hong Kong and the United States. The country of origin, the vehicle's name and model number, the Hot Wheels logo, and a copyright date appear on the base of each car. The copyright date can be used to date cars from this period. This is usually, but not always, one year prior to the car's introduction into the lineup."

The Ultimate Redline Guide by Jack Clark & Robert Wicker
Every kids dream in 1968 was to have the 12-car Rally Case and all 16 cars.
I'm going to post up a car every day, as often as possible, starting with the first year of issue in alphabetical order.
Post up your pictures, memories and dreams ...



1968
Beatnik Bandit
Custom Barracuda
Custom Camaro
Custom Corvette
Custom Cougar
Custom Eldorado
Custom Firebird
Custom Fleetside
Custom Mustang
Custom T-Bird
Custom Vokswagen
Deora
Ford J-Car
Hot Heap
Python
Silhouette

Spectraflame Colors
Aqua
Blue
Brown (varient: Copper)
Gold
Green (varient: Seasideer Green)
Lavender (collectors prefer Rose)
Light Blue (varient: Ice Blue)
Lime (called Antifreeze by collectors)
Light Green
Magenta
Olive
Orange
Pink (varients: Hot Pink, Creamy Pink & Salmon Pink)
Purple
Red
Yellow

They were packaged in a "blister pack" along with a collector badge.


My cars from 1968-70 in "played with" condition.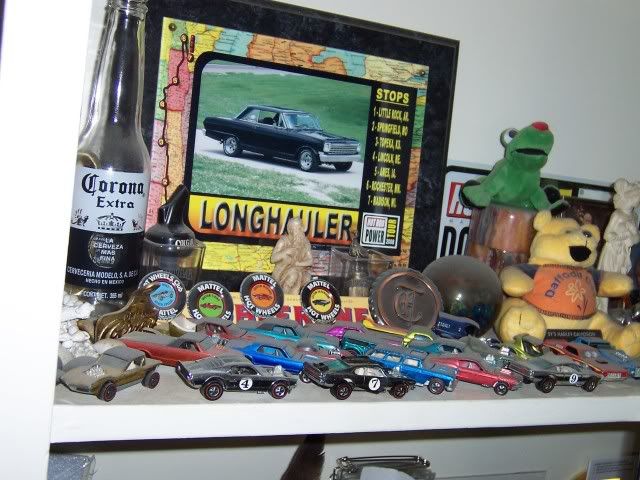 Some of my buddy Dave The Bartender's collection.
The "King Kuda" Club car from 1970
(there was also the "Heavy Chevy" & "Mustang Boss Hoss")
Dave The Bartender's Mustang Boss Hoss Club car.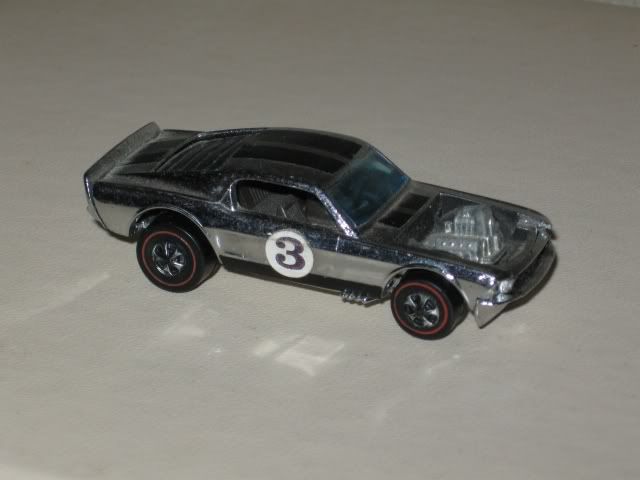 Dave The Bartender's collection has the original 48-car Collectors Case and he still has lots of awesome orange track.
A few of my lunchboxes with a thermos from 1969.