Mark Williams builds some of the best drivetrain components on the planet. Axles, housings, ends, gears, yokes, driveshafts, and so much more. Whether you are building a hot rod, a race car, a truck, or anything in between, the folks at MW probably have something that you need. That is especially true if you are trying to stop something that goes really really fast. You see, there is more to stopping a car than just pushing on a brake pedal. And with racing there are other challenges. Challenges that sometimes seem so simple. Staging a car at the dragstrip for example. Ever pulled into the beams in a foot brake car and rolled the beams when you got on the two step? Yeah, it takes some serious brakes to hold real power.
That's why you need to check out Mark Williams. Here is some great technical information you can use when deciding on what your braking needs are. Check it out below, and CLICK THIS LINK TO VISIT MARKWILLIAMS.COM FOR MORE INFO
Better Stopping By Design – Mark Williams Enterprises
At first glance, all disc brakes seem pretty much the same. The calipers compress the pads onto the rotor, providing the stopping power. Looks good on paper. But what happens in the real world, when there are all kinds of dynamic forces at play that can cause flexing, misalignment and uneven pressure application? It's the attention to detail and thorough engineering that makes the difference between marginal and superior braking consistency. And, as an added bonus for racers, MW brakes are compact and light -the reduction in unsprung weight providing a performance advantage.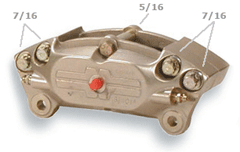 Let's take the calipers, since they're the "heart" of a disc brake system. MW calipers are trim, strong, and have superior bridge strength over competitive products. While the aluminum alloy used by Mark Williams is approximately 30% stronger than what's used by others, the important consideration is the use of four beefy 7/16″ caliper body fasteners plus a 5/16″ bridge bolt. This gives MW calipers exceptional stability, and assures a smooth, even application of pressure. Another design feature of Mark Williams' calipers is that fluid passages are internal, which eliminates the need for damage-prone external lines. Available in 2 and 4-piston designs.
The rotors -which are double disc ground to assure both sides being parallel- feature MW's exclusive Slot Drive(tm) rotor attachment system. This innovative feature prevents rotor warpage common to standard design disc brakes.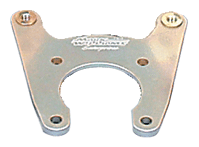 Another important reason why Mark Williams disc brakes provide exceptionally reliable stopping power is that the caliper mounting brackets are designed for each application -there are no "universal" type brackets or compromises. These durable 5/16″ thick 7075-T6 brackets have steel threaded inserts for the caliper mounting bolts. They're designed to provide precise caliper-to-rotor alignment for optimum grip.
PRO STREET BRAKES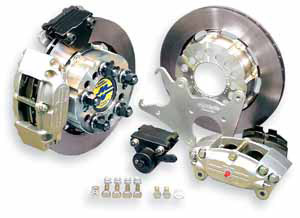 Mark Williams has developed a highly effective brake kit for Pro Street and Street Rod applications that features an auxiliary parking brake. The primary braking system is similar to MW's competition setups from a design standpoint, but uses .810″ thick vented rotors for superior performance in stop and go situations. The mechanically actuated parking brake fills the bill for vehicle code requirements. The rotor is 11-3/4″ in diameter, which provides ample clearance for most popular wheels.
COMPETITION BRAKES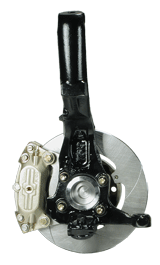 Reducing front end weight pays dividends in performance, so it's important to note that MW's front disk brake kits are designed to be the lightest on the market.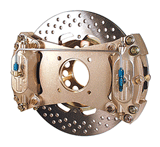 They have a large diameter rotor mounting patter, which reduces rotor weight.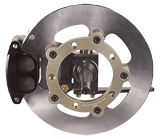 Mark Williams Enterprises has also developed special dual caliper configurations, which are designed to provide extra holding power on the starting line. Also available are "floating" brake rotor setups for spindle or strut-mount brakes. See complete details in the Products section of this site.
CARBON/CARBON BRAKES


For the ultimate in lightweight brakes, MW's carbon/carbon assemblies are the answer. Weight savings of up to 10 lbs. over similar steel rotor brakes are possible. The primary advantage of these brakes, however, are their incredible stopping power.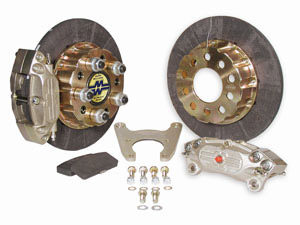 Because the rotor and friction pads are made of the same premium grade BFG 2D PAN carbon fiber (instead of random chopped fiber materials used by others) they can withstand tremendous heat and pressure without fading. If you go fast -and want to stop with optimum efficiency- invest in MW's carbon/carbon brakes. Available for both front and rear applications.