(Words and Photos by Carl Blanton) – (Editor's note: There are few cooler things in the world to read than racers telling their stories of high adventure from back in the day. I was contacted by Carl Blanton, the track operator of Smokin' Mo-Kan Dragway, and a guy who has been in the sport for more than four decades. Carl sent along a story he had written a few years ago about an adventure he took in 1978 with an injected dragster he built, a rickety trailer, and a wounded station wagon. This is the stuff we honestly love to share with readers. Carl's voice tells the tale like no one else ever could. Enjoy this adventure….we sure as heck did!)
This is a true story that takes place about 36 years ago.It was December of 1977. I was 20 years old and had just finished my new dragster. I hoped for a year of touring with the AHRA Grand American Series of Drag Racing and racing in Top Comp.The dragster was a front engine car that was modern by my standards, and was said to be the former Keeling and Clayton Top fuel car. It probably wasn't, but it was a nice piece. The engine was a 396 Chevy that came from my old dragster, and had a shinny set of Hilborn port injectors that I had just purchased (used of course) and had absolutely no experience with. The trans was a early overdrive Lenco 2-speed that came with the car. The clutch was a "trick" slider that was one of the few things bought new, from RAM clutch.Top Comp was AHRA's quick 32 style bracket race that featured a lot of cars like mine. Top Comp probably gave birth to Pro Mod, but that's another story.The first race of the year was the AHRA Winter Nationals at the old Tucson Dragway. Besides getting a race car ready, I also needed to figure out how to tow my digger and trailer the 900 or so miles out to southern Arizona, as I had no suitable tow vehicle. What I was driving was a '66 Ford Ranch wagon with a 289 and a C-4. What seemed to be the best solution was to rob the 390 and C-6 out of a '67 Galaxie that was sitting next to my rented house two blocks from the Tulsa airport.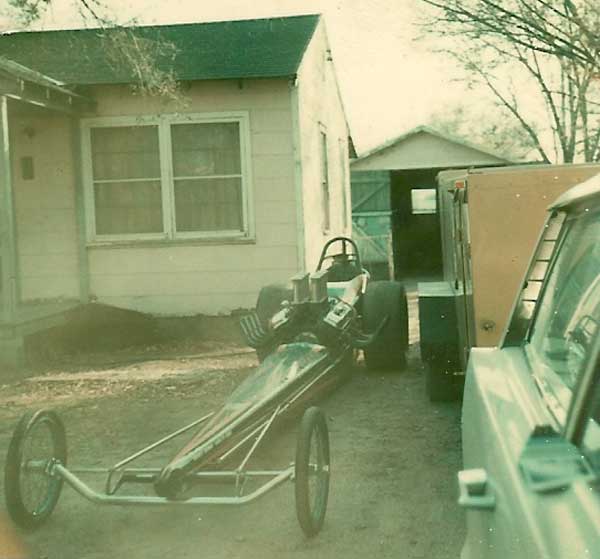 Only photo I have that comes close to showing race car, trailer and Ford wagonAnd so that is exactly what I was doing over the cold Christmas break from my job as a bus mechanic for the Tulsa Public School system. Motor swaps at my house were done with the proverbial "chain over the rafter and borrowed hoist" in my one car garage. Since I was younger, more agile, more focused and I turned wrenches most every day, the swap was done in three or four days. One memory that stands out from that time is ridding to the local McDonalds on a motorcycle. Don't know why, but I do know I didn't own a motorcycle.
Anyhow, the wagon has the bigger motor (which turned out to be a 352) and bigger trans (which turned out to be a M-11) and I am ready to do the test fire. The engine cranks right up but after just a few seconds, the oil pressure goes to zero and the lifters start raising hell. I don't remember exactly how I determined this, but the problem was the engine was so caked up with gunk that when the oil pumped to the top of the engine it couldn't roll back to the pan. My solution was to pull the intake and pan, scrape as much of the crap out as I could, blast the rest out with a garden hose and put the whole thing back together. Viola, runs fine and has oil pressure.
Next a condenser from an air conditioner is wire tied in front of the radiator and plumed into the trans as a cooler and a pair of air shocks are installed for that all important towing stability. The wagon had some sort of hitch bolted to the bumper, so good enough. Last but not least we bolt the eight track tape player under the dash.
The trailer came with the dragster, as they always did in those days. It was your typical small dragster trailer. It was about four feet wide and 20 or 22 feet long. It was taller in the back but no where was it taller than three feet. It was some sort of mustard yellow color, and had a big shield on both sides that said "Hy-Po Equipped". Circled around the shield were the words "Some Speed Shop, Kansas City, Missouri."
OK, the race cars is ready, the tow car is ready and we have a plan. The plan is, that on Sunday, January 22nd, 1978 (my 21st birthday) I will hitch up and head to Tucson. A friend, Ray McClellan, who lives in Ohio (I met Ray when he went to Spartan School of Aeronautics in Tulsa) will fly out to Tucson and meet me there and then ride back to Tulsa after the race.
I had some money, I don't remember how much, but it wasn't enough, and I am sure I never gave that a second thought. A few days before the trip, a MasterCard arrives in the mail, and this is a sign that I was supposed to make this trip. Finances improved again when at the absolute last minuet my mother offered me $100 to take my older brother.
So on that Sunday night we set out. We got just a few miles from the house when a lifter went down and started making a knocking sound that we learned to love. The next revelation about our wagon / trailer combo was that the speedo was way fast. So I am not sure at what speed it was, 60 maybe, but at that precise speed, the trailer would start to whip uncontrollably. So something I perceived as 50 was our chosen towing speed. The trailer also didn't like trucks passing, and when your driving fifty they all pass you, so I got real used to moving over as far as possible, and then fighting like the dickens to stay in my lane every the big rigs went flying by.
We drove most of that night. I was due in at the bus garage at 6 a.m., so somewhere near the Texas panhandle, I stopped at a pay phone and called in sick. For the week.
Out I-40 to New Mexico, and then down 54 to I-10. The first racers we saw along the road were the Mitchell Brothers from Greentop, Missouri. They were AHRA regulars with their stock class Gremlin and Super Stock Chevelle wagon. One was on a ramp truck, the other behind on a trailer. As we passed them on Highway 54 (they were stopped) I waved like they were long lost family. They looked at me like I was nuts.
Monday Night we splurged on a motel in Las Cruces. Tuesday Morning at 7 a.m. we are eating in the motel diner. Does anyone remember the winter of 77 -78? It was cold as hell. I look out the window and it's snowing. I mention it to the waitress and she says, "it never snows in Las Cruses". It was snowing, and we headed back onto I -10 in a howling snow storm. In the desert. In southern New Mexico. With a rig I could barley hold on a dry road. That had a noisy lifter.
I think, if you have ever driven a really long way on the US interstate system, at a speed way slower than everyone else, you start to feel inferior. We plodded along, amazed by the mountains and desert, us flatlanders from Oklahoma. Worse, from Tulsa. Worse, from Dawson. But then Tucson came into sight. I felt pretty good, this crazy idea that I could build a race car and tow it out to Arizona, and RACE, it might just happen. We took the prescribed exit and right there was our hotel. The Best Western that DRAG WORLD had listed as the official event hotel.
I pulled into the lot, and here are all these funny car racers. They all ran at El Paso the Sunday before. Ezra Boggs from Oklahoma City, the Blind Faith car from Minnesota, Tom Hoover and others. They all had their cars out working on them. I rolled down the window and ask the Blind Faith bunch something about parking. They guy yells back, "You better park somewhere, that thing sounds like it's gonna blow up!"
So if you are 21, and in Arizona for the AHRA Winter Nationals, and all of you funny car hero's are out working on their cars in the motel parking lot, then by law, you have to pull your race car out and work on it. So I did. Ezra Boggs came over first. He told me that Lenco was gonna blow up and take my legs off. Later I went over to his car. He and George Hoover were looking at the front end. Apparently George had just told him the chassis was bent. Ezra says to George, "why do they build these god damn things outta muffler tubing!"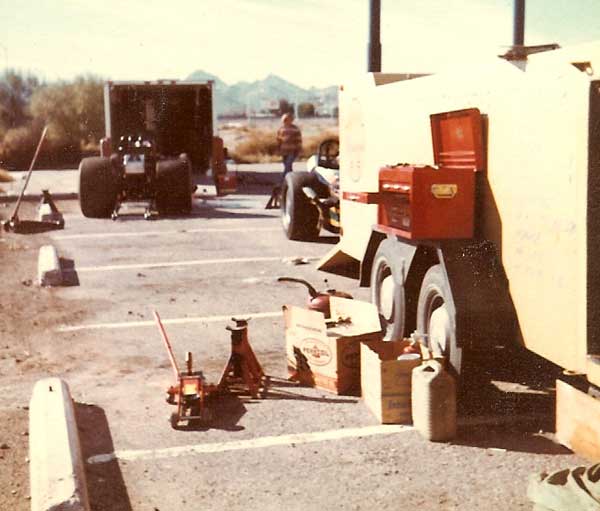 Tucson at the motel. Boggs "Moby Dick" funny car in the back ground.
That night some girl knocked on the door, she was selling something, not that, I don't remember what. My brother let her in. When she left, he decided to go out. He woke me up a few hours later, not on purpose, he was going through my pockets looking for money, and he was pretty drunk. F*** you he says and walks out. He did get arrested that night, but he got out some how, and was back in the room early that morning.
Wednesday afternoon I am back in the parking lot working on the car. Ezra Bogg's one ton dually comes screeming into the lot with one of his crew driving. (Ezra wasn't in the truck). The guy jumps out and runs like hell up to his second floor room. Within about two minutes a lady drives up with some kids in a small car. She gets out looks at me and points at Ezra's truck, "who's driving that" she demands, "they just hit me and drove off!"
Wednesday evening we picked Ray McClellan up at the airport and drove out to look at the track. Nothing special. We went on over to have dinner at the Triple -T Truck stop. An old truck driver I knew said we should eat there. Ray thought the idea of making a special trip to eat at a truck stop was pretty silly. When I ordered the "Old Souh Special" he assured me it was going to rise again.
Thursday morning we went out and got in the long line waiting to get into the track. Brian Ramier and his Top Alcohol Dragster from Colorado pulled in behind us. We talked and he looked over my injected Chevy / Lenco combo. He assured me it wasn't going to work. But he did try to give me pointers on the clutch.
We picked a pit spot and set up camp. A nitro funny car from Phoenix pitted next to us. The "Sun Devil Hustler". If me and my gang were clueless, these guys were worse yet. If I were a drug taking sort, I would have liked to have some of what they were taking. The little guy talked to us a lot. He was the driver. He said he wanted to drive my car too. He said they usually just ran match races. He told me that Lenco was gonna blow up and take my legs off.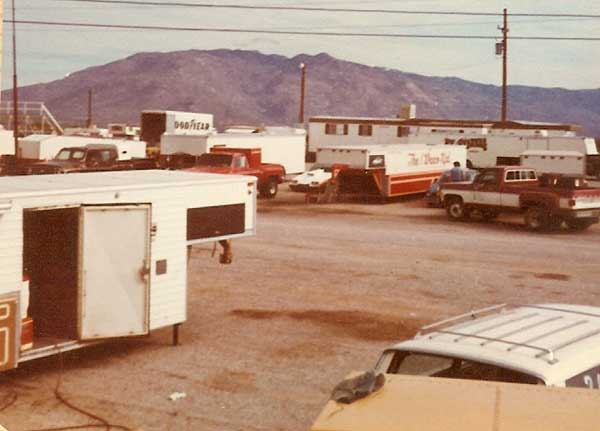 Tucson pits. Back in the day kiddies, us sportsman could pit next to psyco funny car racers.
The big guy didn't talk so much. He did tell us he was the crew chief. We never saw him work on the car, but he did pull out a grill and do a lot of cooking. We decided he was the Crew Chef.
We sat in line a long time and finally went up to make a run. Here is the fun part, I had never moved this car under it's own power before. And it was pretty sad. The clutch just slipped. It wouldn't turn the tires in the water, but I kept winging the motor and moving toward the start line, slowly. No less than Don Garlits grabbed my brother and yelled at him, "tell him to shut it off! It (the clutch) is completely gone!"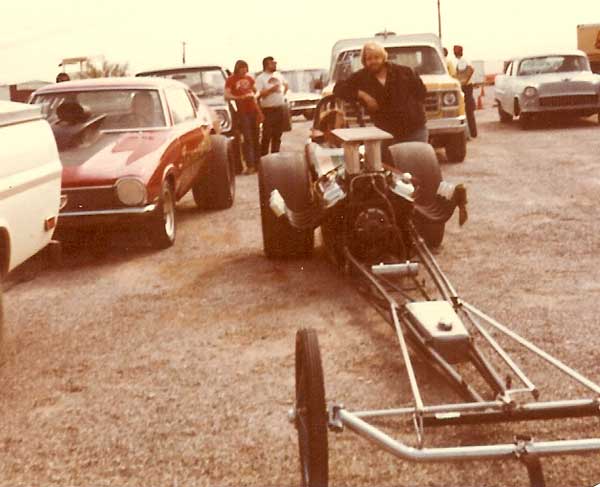 Here we sat in staging. The Maverick has a blown Chevy and ran a lot of AHRA races. "Incognito" was the name.
And it was. We took the rear end and tranny out to get to the clutch can. My trick clutch had melted as soon as I released the pedal. As bad as my set up was, the real problem was the clutch was meant for tractor pulling, and certainly not meant to slip. Somebody, maybe the Hustler guys, hooked us up with Bob Devore who ran the Mr. Gasket support trailer. He said he would build us a clutch Friday morning.
And he did, no charge. He came over to watch us put the car back together, and after measuring our clutch can, gave me the bad news. It was the wrong depth for our input shaft. Nothing short of a new clutch can or input shaft was gonna fix that. We were done racing for the weekend.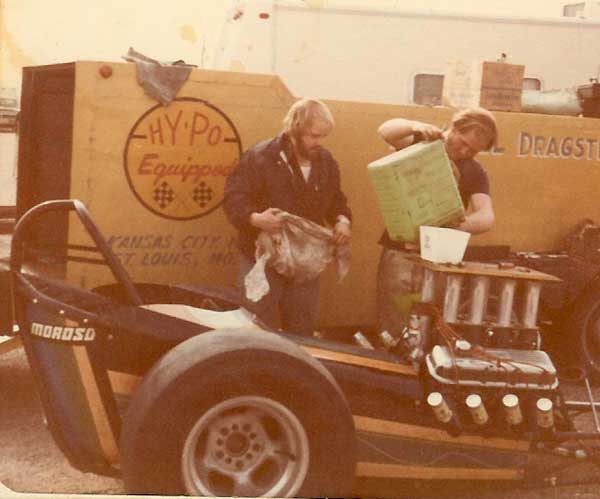 Ray McCellan and I set to work on a lost cause
So we hung around Friday night and watched the nitro cars qualify. The Sun Devil Hustler launched, squirreled around, and then hit the guard rail. Little guy was O.K, and when they got back to the pits, big guy got out his grill and started cooking.
We hung around Tucson Saturday, we went to the Puma County air museum, and then back to the track Saturday afternoon to watch more racing. Sunday morning we headed out, getting an early start, at 50 mph, on our way back to Oklahoma. As the afternoon wore on, other mid-west racers begin to blow past us on their way back. Rusty Butterworth in the Super Chicken, a Super Stock Mopar. Chuck Phelps with a Winnebago motor home and his front engine digger. (Who knew a Winnebago could pull a trailer that fast.) And then, somewhere on I-10, we were passed for the first time by Jim Ruble and a convoy of at least eight Springfield, Missouri racers. Ruble was an engine builder and raced an early 'Vette in something like Modified Production.
We were out of money. We were putting everything on that shinny new MasterCard. There wouldn't be a motel, just long hours of slow driving and a trailer whipping all over the road. Somewhere outside of Albuquerque, late at night, I gave the wheel to Ray. Just before I dozed off, I saw Ruble and the Springfield gang at a motel.
I woke up at about six a.m. We were in the Texas panhandle. The new daylight showed a thin layer of ice on the roadway. I sensed we were going way to fast. The messed up speedo showed us at 90, which I figured to be about 70. Ray noticed I was awake, and said, I swear, "the trouble with you people from Oklahoma is you don't know how to drive on this stuff." He no more than got those words out of his mouth before the trailer tried to pass us on the right, still hooked to the bumper.
As the trailer took the lead, and we did big looping circles down the east bound side of I-40, Ray would spin the wheel all the way left and stand on the gas, and when that didn't work, he spun the wheel all the way right and stood on the brake. Didn't seem to matter what he did. The Ford wagon and dragster trailer were now doing the dance they had wanted to do this whole trip. And the ice just made it better for the both of them.
We came to rest in the soft dirt of the median. The sudden stop sent chocolate milk containers, half eaten candy bars, and all the other stuff that collects inside a car that is being lived in, to new locations. My brother who had been asleep in the back seat, rolled over and calmly asked, "did we run off the road?"
We didn't hit anything solid, and nothing solid hit us. Jack knife is the technical term, the right front corner of the dragster trailer was embedded in the right quarter panel of the wagon. The hitch and the trailer tongue were bent, and one axle of the trailer now had excessive camber. The dragster stayed tied down (the important part). I relived Ray of his driving privlage and actually drove away from the spot without assistance. Back on I-40 now, and driving even slower, Ruble and company pass us.
After The sun and warmth of Tucson, Oklahoma is gray and cold, as is our mood. We chug through Oklahoma City, look the Ruble bunch is stopped at that truck stop. And up the Turner Turnpike to Tulsa. We drop the trailer at my house at 8 p.m. and head back west on I-44 to Peoria and Pennington's drive in. We must reward ourselves with fried shrimp and black bottom pie. As we make the exit, there goes Ruble's bunch in the opposite direction, three hours from Springfield.
Ray went back to Ohio, my brother went back to his life of high adventure, and I worked on my dragster for another year before I discovered it had the wrong gear, the wrong transmission and the barrel valve was 180 degrees out.
In his work "Travels with a Donkey" Robert Louis Stevenson wrote, " I travel not to get somewhere, but for the sake of traveling." Thirty years later, I remember this trip among many travels, and I wonder if Stevenson's donkey pulled a cart.