Just when you thought it was safe to go outside, Holley has released new intake manifolds for the LS3 and L92 variants of the LS engine platform. These intakes are of a single plane design and they can be split open for ease of porting and modifying to the end-user's delight. There is a street version, a race version, and port EFI versions of both that have the bosses ready to be hogged out for your injectors.
This is good stuff and it certainly shows the company commitment to keep the new products coming in an avalanche style. The full story is below.
Holley Releases New Single Plane Split Intake Manifold For GM LS3/L92!
Holley has expanded their line-up of race oriented split-design intake manifolds by releasing two new LS3/L92 versions! A carbureted 4150 flange version gives consumers the ability to go old school and provide an option for a high-winding performance intake that doesn't break the bank! Meanwhile, the EFI version also includes fuel rails, mounting hardware and 4150 mounting pattern allowing racers to use a variety of throttle body and intake elbow combinations. Read on to learn more about these awesome new products!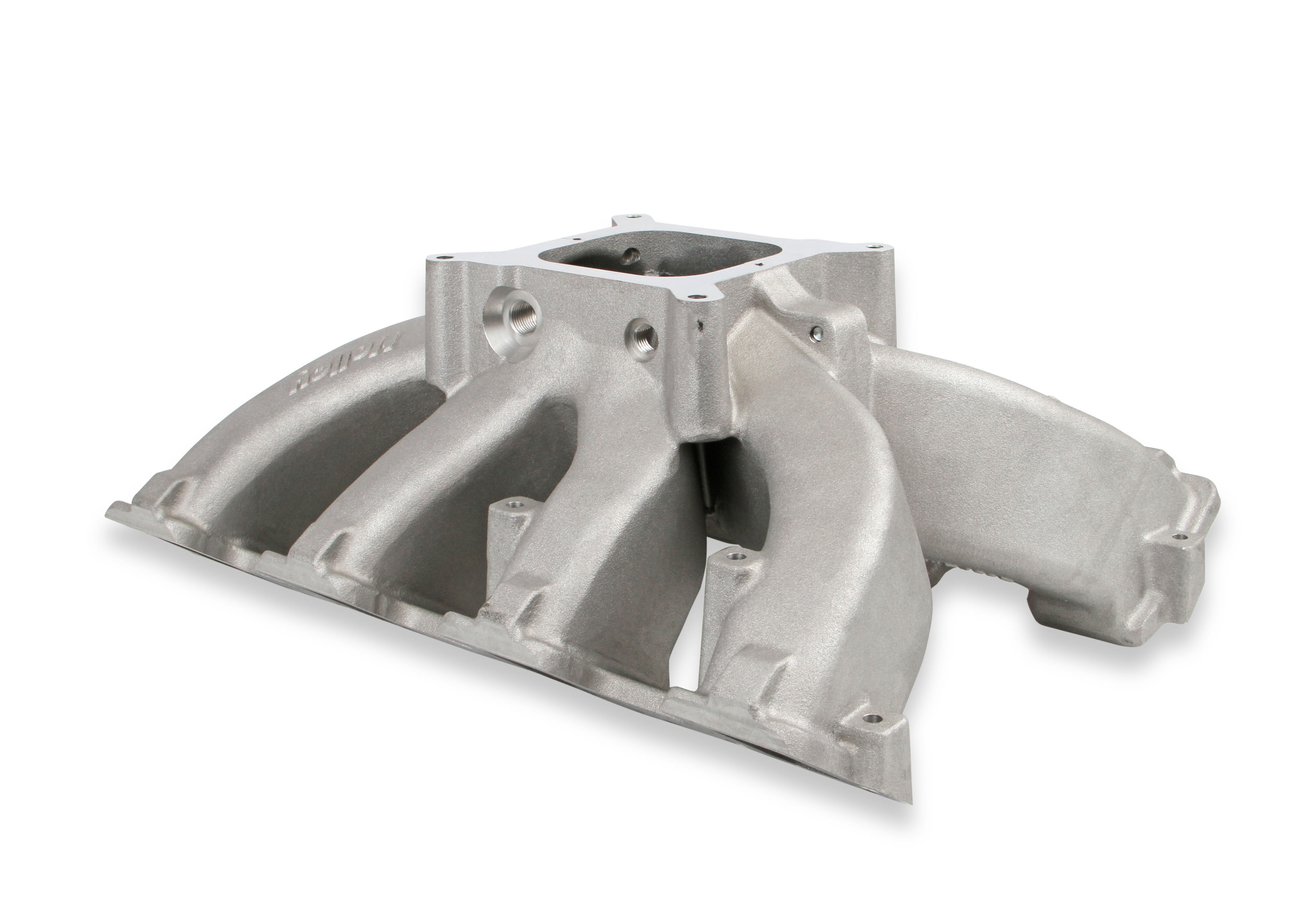 4150 Carbureted Versions (Black/Natural Finishes Available)
The new Holley Single-Plane Race intake manifold were designed with performance in mind. They feature a race bred, two piece split feature that was previously only found on the most expensive race intakes. The manifold fits GM LS Gen III engines with LS3/L92 heads and are intended for 4150 style square bore flanged carburetors or throttle body EFI.
Captured O-ring seals at head ports and the split.
Vacuum port options include (2) 1/8, (1) 1/4, and (1) 3/8, NPT ports at the carb flange.
33 to 50% the price of other split race intakes!
4150 Pattern EFI Versions (Black/Natural Finishes Available)
The LS Race single-plane intake manifold was designed for racing engine applications, 5.3 to 6.2+ liter displacement and high-winding performance!  This single-plane design provides optimal performance across the RPM spectrum while providing maximum engine speeds up to 7000 rpm, depending on the engine combination.
Maximum performance race design with hood clearance consideration.
Lighter than other split race intakes.
Billet fuel rails and rail mounting hardware included.
The Holley LS Race manifold incorporates a split feature, which allows disassembly of the intake for direct access to internal plenum and port surfaces, making custom porting and matching a snap. With shoulder bolt locators and O-ring seal, reassembly is simple and precise!